Angler is a discreet, lovely restaurant above the fabulous South Place Hotel, near London's Liverpool Street station in the heart of the city. Having spent much time in the bar downstairs, I finally got to try the michelin starred delight twice in a month! Both times taking some very special people (you know who you are!). I was delighted to take them somewhere where the service is friendly, the food is well thought out and delicious, the décor is cool and… they have a roof terrace!
Another wonderful thing, which proves to me the perfect lack of pretension, is that they have a set menu for dinner as well as lunch, for only £35 per person – that is incredible for London!
A luscious canapé of mushroom donut with spiced onions, served on a warm slate was an interesting beginning. The sommelier was helpful, and apparently because they pour wines without removing the corks they are able to serve a good selection. I certainly enjoyed my Spanish sauvignon!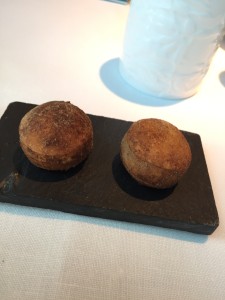 Next was an amuse bouche of cauliflower with saffron meringue… I dont know how someone came up with this, but it was an utterly delicious concoction!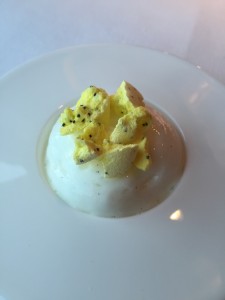 My favourite was possibly my starter, it was as beautiful as it was tasty. Squid, scallops, fregola and roast pepper purée…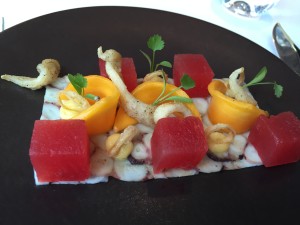 Whilst my guest enjoyed a simple dish of perfectly cooked asparagus hollandaise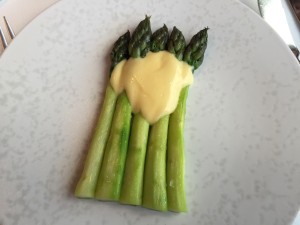 For my main, I had a stunning risotto of morel mushrooms. Veggies never tasted so good!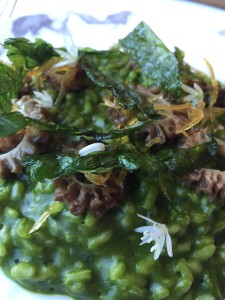 And my dessert was the same both times: Buttermilk panna cotta, raspberry and rose jelly, lychee granita – this is possibly my favourite dessert ever. I really hope they don't ever take this off the menu!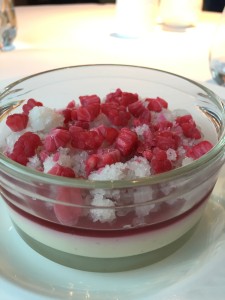 Another dessert was this lovely chocolate and lemon tart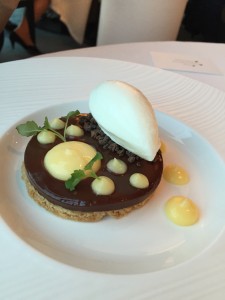 Ending the meal symmetrically, we were served donut truffles which were utterly delicious too!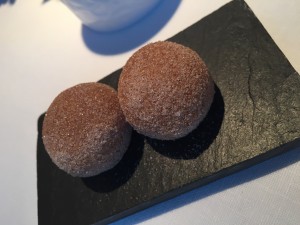 For the price, level of service and quality of food, this is the total package. Highly recommended as somewhere to head to treat yourself anytime. And dont forget to grab a drink in the hotel bar while you are there!