I have wanted to do a roadtrip from Bilbao to Barcelona for a long time, and at last we did! It was all it promised to be and more. We had a wonderful time at each stop, with the potential for each location to be a destination for a break in itself.
I have often heard that Bilbao is arty and cool, it didn't disappoint. Cheap and quick flights from London via Easyjet made this a no brainer for a visit and starting point. We chose to stay at Air B&B's throughout our trip to get the most of the 'local' feeling. In Bilbao we stayed a little outside of the central area, but close enough to walk over and it was a quick drive from the airport. The apartment was lovely and had all we needed, and the host was super helpful.
We visited at the end of August and had no idea that we had timed this to coincide with the big weekend finale of local festival 'Aste Nagusia'. I have honestly seen nothing like it! Apparently the festival goes on for 9 days, with the centre of town and all along the river that runs through it covered in stages and tents with music, food and drinks. People were partying non stop and the atmosphere was electric, everyone we met was super friendly and tried their best to speak to you – one elderly man tried in Basque and French before giving up and serenading us! Be ready for the passive smoking of weed! There are parades and kids activities in the day time as well as nightly fireworks around 11pm. On the last night of the festival there were fireworks that put London's NYE display to shame. Do try and visit for this if you can.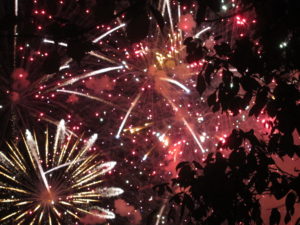 Over our 3 day stay we managed to pack a lot in. Here are some of the highlights:
The Guggenheim museum – I'm not much of a museum person usually, but the building is fascinating and installations were also pretty interesting. Take the audio tour, which is included in your free entrance, and lose yourself in the beauty of Frank Gehry's architecture before you walk through the exhibitions. One of my favourites was a video installation where a band played in separate rooms of a house but the same song so it could be viewed together as a single piece. Hard to explain, cool to experience. We didn't get a chance, but there is also an innovative restaurant in the building if you fancy something special, called Nerua.
Eat Pintxos – In the Basque country (this northern part of Spain that is very proud of its heritage), small Spanish tapas is called Pintxo (pin-cho). There are lots of stories behind the origins, from free pintxos being given out with beers to stop patrons getting too wasted in bars, to other less fun ideas! Ultimately, a pintxo is the Spanish word for the cocktail stick that usually holds the tapas together, however these days with the Basque foodie evolution, you won't always get a stick but almost always get something more-ish! There are tons of places to eat around the city that provide really yummy food and a good atmosphere. One of the best things to do is the Sunday pinxto crawl as the locals do, head to the old town (Casco Viejo) and start munching your way around the avenues! Some of my favourite spots, not to be missed:

Gure Toki – Set in a lovely square, often with live music, this place offers delicious, traditional and evolutionary pintxos. Do not leave Bilbao without trying the beef cheek, croquettas and patatas bravas here.
Plaza Nueva – there are a number of good pintxo bars here, including Gure Toki and Victor Montes. It was one of the nicest spots we found to eat and enjoy
Other places we didnt try but recommended are:
Take in the views from Mount Artxanda – take the funicular to the top of the hill for the views or a walk.
Visit the Alhondiga – a cool space designed by Phillipe Starck, where you can rest with wifi at the terrace bar or rooftop club or restaurant. Apparently its a good place for breakfast too.
Take a walk – and take in the sights of the lovely city. The riverside is lovely (when not masked by the festival tents at the end of August).
Drive the coast roads – If you have the time or inclination, there are some really beautiful areas all around Bilbao to drive through.
Take a day trip to La Rioja – if like us, you don't have time to dedicate a few days to this luscious area, then take advantage of the close proximity from Bilbao to the wine region. A 2 hour drive gets you to Rioja, where you should definitely plan ahead for where you want to visit. There are so many wineries to visit, but make sure – especially in summer – that they are open, and that they are catering for English speaking visitors as this is peak Spanish holiday season too so many tours are not available in other languages. Some of our highlights to visit:
Book a michelin experience! – Being near San Sebastian that has the highest concentration of michelin star restaurants in the world, take the opportunity to ogle and book the one you really want to visit. There are so many to choose from, all with different alluring features. We booked last minute by calling every day a few days in advance and got a place at Arzak, which was fantastic. Some of those I considered and would go back for are listed below. However there are alot of places that have really great food without the blockbuster spend:

Azur Mendi – great michelin in Biscay
Andra Mari – rustic and authentic
Boroa – rural one star between Bilbao and San Sebastian
Of the things we didnt do, you might want to try:
Visiting a cider tavern – sidrería – for a unique night, where you eat lots of char-grilled meat and drink copious quantities of cider.
Whatever you get upto, you are guaranteed to have a great time. I am already looking forward to our return trip, writing this up!
Useful Resources: