Opened in March, Black Roe poke bar & grill (pronounced po-kay), is the new venture behind the brilliant minds at one of my favourites, Chotto Matte: Kurt Zdesar (of Ping Pong fame).
The restaurant is hidden away on tiny Mill Street just behind the hustle and bustle of New Bond Street in Mayfair. Formerly the site was home to 'demon chef' Alvin Leung's fantastic Bo restaurant, and more recently Zdesar's seafood restaurant Bouillabaisse, I wish the new occupants the best of luck for a long-term residency.
The restaurant offers 'pacific rim cuisine', which simply means that it offers fantastically fresh seafood with wondrous flavours, and meat that has been perfectly seasoned and smoked. Poke is apparently a typical Hawaiian  dish, made with a rice base. Suffice to say, everything we tasted (in the very reasonable and varied lunch set menu at £23.50) was delicious.
As you walk in, you can already see the fresh poke dishes being put together.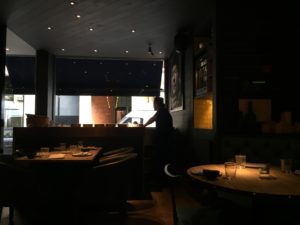 The interior of the restaurant is clean, stylish and welcoming. With its distressed wood flooring and hand carved tables making a cosy contrast with the leather seating, black and white photography and neon signage, there is a lot to take in and enjoy.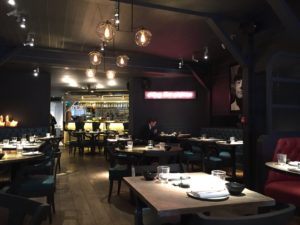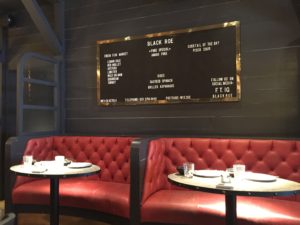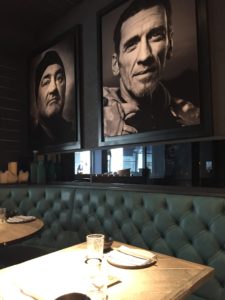 We started with the salmon and vegetarian poke dishes. I can't eat the raw fish right now (8 months pregnant!) but my partner in crime vouches its yumminess. For me the fact that some simple veg could taste so refreshing meant the kitchen was aiming for (and achieving) high standards, as they weren't depending on fresh seafood alone.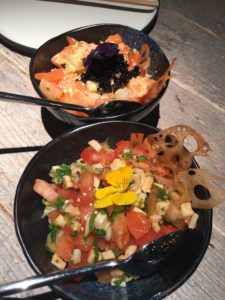 Next we got what I can only describe as a tasting plate of lots of great stuff. Again my ahi was seared so I could try it. The sauces were smoky and delicious. My favourite was the lobster pot stickers, and a close second was the blackened sea bass, with the chicken coming last but not least on the plate.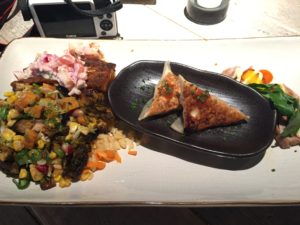 By the time dessert came around, we were pretty full but tried out the apple tartin with milk ice cream (LOVE the ice cream) and the melting chocolate cake – both utterly decadent and perfect.
Downstairs there is a cute private dining room with a view into the kitchen, as well as tanks of live crab and lobster.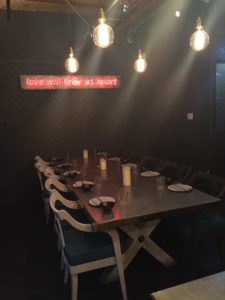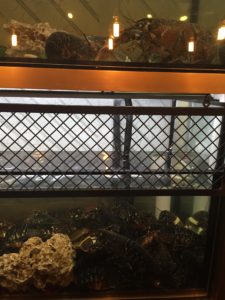 We really enjoyed our lunch here, and think there is more to come back and sample of the menu (post baby I plan to eat LOTS of sushi!). I'd recommend it any time you are in the neighbourhood to pop in for a bite, although the lunch menu is exceptional value. I'm looking forward to seeing the menu develop some more and hope this is an opening at this address that stays open for a long time!