One of my absolute favourite places in the world has to be London-based Scottish restaurant and bar, Boisdale, in Canary Wharf. It opened about five years ago and immediately I was very excited. There are so many stories I could tell you that have occurred here, it is a memorable spot for me, but instead I will keep my dignity and tell you about the best bits – before I get to why their burger is pretty damn good!
As you enter the 1st floor Caviar & Oyster Bar from the lift, it is dark and moody with a slight tartan theme. The walls are adorned with provocative black and white prints… a wrangler here, a naked woman with nipple tassles there… it evokes the nostalgia of a very elegant gentlemen's club that probably never existed! As you round the corner, you are met with a more wholesome feeling open space with tables and a huge semi-circular bar that is pretty much always busy, with fun patrons and staff. You can pop outside onto the terrace with your drink, for a smoke or to admire the view. One side of the terrace is exclusively reserved for members; something I recommend taking up! Next to the private terrace, there is a cosy cigar lounge run by a man who knows possibly everything there is to know about cigars. I am always happy to start or end an evening on this level as not only are the drinks good (but maybe expensive), the burger luscious, but the service is phenomenal – it wouldn't be fair if I didn't say at this point that P is the reason I keep coming back – he makes you feel right at home, thank you Phillip!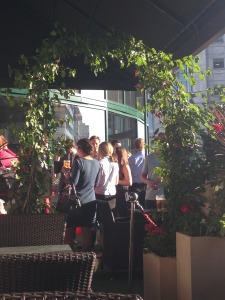 The 2nd level via the stairs or lift takes you to the main restaurant. They say it is Gotham-esque on the website, but this always makes me think of Goodfellas, one of my all time favourite movies. Probably due to the fact that it has a really smart feeling but a great vibe with the live music that comes on later in the evening, with music ranging from Blues Brothers tribute bands to sexy jazz. Dinner and a show – alongside fabulous fabulous drinks courtesy of my other favourite person in this venue – Ernesto the besto – make this a great spot to feel timeless and special for a moment. If you have the pleasure of meeting Ernest, order a 'Perfect Lady' whether or not you are a lady (or gentleman) I can promise you will like it! And if you are dining in the restaurant or the bar, have a go at the Haggis – forget for a minute what it's made of and take a bite – I have yet to meet someone who didn't like it.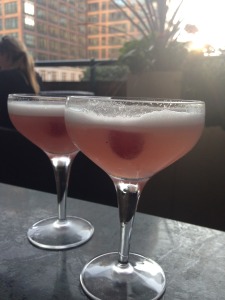 And so I come to the point that I have been here many many times, and only recently when introducing our German visitors to my inner sanctum, did I realise that I have yet to add the Boisdale burger to the Great British Burger Wars Mix! You can order a burger on the restaurant menu 'Truffle Aberdeenshire rib-steak hamburger' which comes with gruyère cheese and mushroom, and a side of fat chips at £17.50. However, in the bar menu, you have a wide choice of burgers (Classic, Inferno, Deluxe, Truffle) starting at £7.50 and you can add a few extras for £1 each. So it is cheaper and more adventurous downstairs if you are craving burger. My personal favourite is simple, the Classic burger with cheese. One thing to remember is that they only offer their burgers medium or well-done. I do not know why… but I can say I always go medium and I am always happy with the melted meaty, charred goodness that I receive!
As well as the great food and music over two floors, the venue is a great spot for private events, from exclusive hire to private dining. A good excuse to pop over and check this gem out would be for a Sunday Jazz Brunch if you can – 3 courses and live music for £37.50 per person. And there are always fun events from cocktail classes to whisky tasting going on – perfect for a winter evening I say!