I have been to California numerous times in my life, as my sister moved there when I was young. So I grew up visiting great spots like Manhattan Beach, Disneyland and Universal Studios – any young kid's dream.
As it came to planning our next holiday, I really wanted to take ze German to Las Vegas, as he wasn't convinced it was worth the time and I'd already had an AMAZING hen do ('bachelorette') for a friend there a few years back and loved it. This is how we ended up making a plan for an entire California road trip instead of just a few days gambling in the Nevada desert!
You can read the itinerary that I put together in the attached powerpoint document… U.S. West Coast Road Trip
Yes, I know it's really nerdy – but I always think it's easier to have a printed version, where you can throw a page away each day after you have done it and it is a quick reference to all the info you need when you are in the car and probably don't have internet (roaming from UK to US is still not cheap!). We didn't do everything we planned out in the powerpoint – that wasn't our idea as there is too much to do, so some of the slides are resources to pick and choose from. I thought it might be worthwhile giving you some of our highlights and do's and don'ts from our recent trip though, so read on if you are interested!
LA is an interesting place. There is a lot you can do but we only had two nights, so we opted out of theme parks and decided to instead just get a feel for the place. If you have never been, I strongly recommend Universal Studios if nothing else, there is honestly nothing else like it in the world. If you are remotely interested in films, it will blow your mind!
One thing that guide books don't tell you so often about is the Arts District in downtown. I would avoid the financial area downtown, as unless you are working there is not a lot to see. However the Arts District is the Shoreditch of LA, and has some really alternative bars, amazing street art, and like the rest of California – lovely people.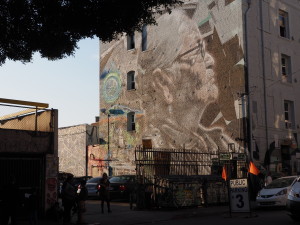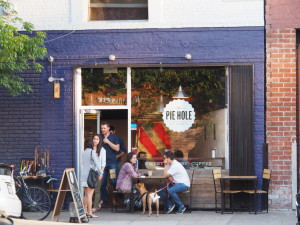 Our other 'must do' highlights for sightseeing include:
Griffith Park Observatory & Park for the views of the Hollywood Sign, if nothing else. You can take a walk/ run around the lush park too. We went early (10am), it gets really busy for parking later on and the morning mistiness was cool. On the drive up you get to see some lovely homes. We had breakfast at a very cool authentic diner called Fred 62 on the way, which is worth a go if hungry!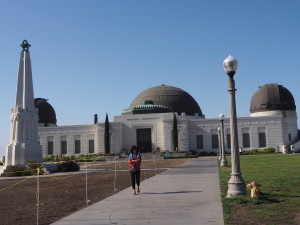 Mulholland Drive – we went from Griffith Park all the way to the national park area. Beautiful drive, and again, it is iconic Hollywood movie sets in action! If you're interested you can find tours of the celebrity homes in the area.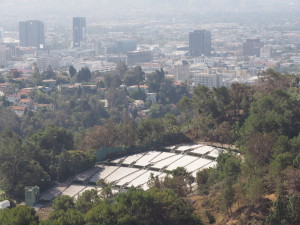 The Getty's – We visited the museum and the villa on the same day (which is a lot to cover). We didn't have time to go in and honestly, we aren't usually so inclined, however if you are – it is a must. Both buildings and spaces are beautiful, well maintained and the staff so helpful. And super tip – if you pay for parking at one of them, you don't have to pay for the other one, just ask to redeem your ticket!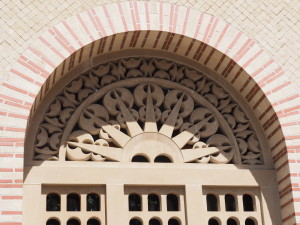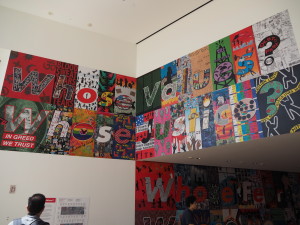 Sunday Brunch at the Hotel Bel Air. Great value in a really special space. Relaxed glamour and romance. Any meal would be great but we enjoyed the brunch menu and outdoor booth seating at Wolfgang Puck. Valet parking is mandatory at $15.
Try out the Sunday Supper deals. We looked at Lucques but were too full from the Bel Air to go for it… but some great treats available if you are in the mood!
Things we aren't too sure about:
Bazaar was nice but I would recommend only for drinks in the cool bar and some snacks, not a sit down dinner as we opted for. It wasn't mind-blowing, service was a little slow and I think the menu overestimates itself. The vibe is much more in line with cocktails and fun.
Don't try and find 'area's for a night out, it just doesn't exist in LA. Everyone told us to go to the Santa Monica area, and we did only to be disappointed by the lack of choice. You are better off picking some places and either designate a driver or get an Uber to get around for some quality for your evening. (Misfit was a cool bar here though, and Harvelle's if you fancy a bit of cabaret).
Ivy at the Shore was a place that was recommended, and I think we had a very different experience to others. So you may like it, but personally I found it a bit cheesy (chintzy, holiday feel design) and massively overpriced for low quality food. We had breakfast on our last day before we hit Highway 1 for our coastal road trip and we were greeted by rock solid scones (freebie), and terrible eggs and omelettes. We paid, left little tip, and ate hardly anything. I won't be going back, even if it may be better for lunch/ dinner.
Highway 1 (The Pacific Coast Highway):
Ventura was a lovely pit stop, a cute main street with cool antique shops and coffee. It's a shame we didn't have longer to spend. We had a lovely coffee (and key lime truffle!) at Palermo.
Stop off in Santa Barbara. It is a beautiful, quaint Spanish town by the sea. It also has the feeling of a wild west town as you approach it from the water, by the old railroad. We loved it, there are so many great places to drop into for shopping and eating/ drinking, if you can add to your itinerary, stay overnight. We took a shuttle bus from the beach into town – look out for the walk in massage places!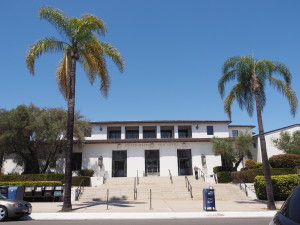 We stopped overnight in Morrow Bay as it was more halfway, so better for the driving, however it was very quiet and not a lot going on – the town shut down at 8pm so we were left with take away Mexican in our motel and a night-cap on the beach – we can't say we minded it too much, but it may not be for everyone! The good thing about the Back Bay Inn where we stayed, was the live music  as we arrived, every Monday until 7pm!
Visit Hurst Castle. We arrived early at 10am and we could have had a tour (without pre booking) within 20 minutes, however we spent 10 minutes discussing with the representative that we didn't want a building tour, just to go up and see it and walk around the grounds. It was like McDonalds – no deviations, they didn't understand we were happy to pay for the full thing but didn't want to spend 2 hours there. In the end we would have had to wait 2 hours for a tour now (tickets sell out THAT fast), so we gave it a miss. I do think it is worth seeing if you have the time.
Big Sur is my absolute favourite part of this trip. A Jurassic coastline with amazing natural beauty. Just the smells alone are outstanding – pine, rosemary, juniper, flowers. Take some time out here to:

Have a nature walk (there are long and short ones)
See Condors near the McWay Waterfall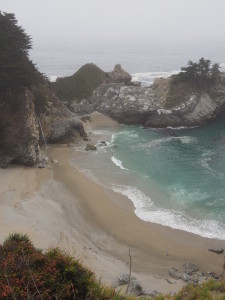 Lookout for signs for places to stop – that's how we see the Elephant Seals!
Have a drink with your feet in the stream at Big Sur River Inn
Grab lunch at the Post Ranch Inn (I heard you can't easily get reservations, but tr popping in. We walked in for lunch at 1pm and didn't have a problem getting a table and it wasn't overpriced for what we have – although full menu prices can be heavyweight. If you can afford it, it looks like a great retreat for an overnight stay too).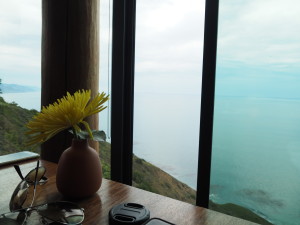 It is not a cheap area to stay, there are some amazing places to try depending on your budget. We went for a converted water tower with Air B&B.
Do visit Carmel, the beach is lovely and the town is very quaint. Take some time out to enjoy the 17 mile drive route. We loved Clint Eastwood's Mission Ranch for dinner, and Little Swiss Cafe in town for breakfast (the best pancakes I have ever had!).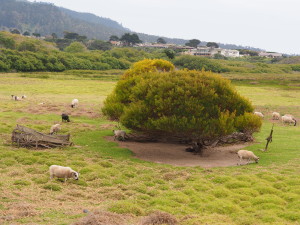 Things we aren't too sure about:
Monterey was a little ugly after everything we had seen so far. More an industrial fishing town, we lasted 20 minutes here!
Santa Cruz is another place that is ok but totally not necessary to see. It has a promenade with fairground rides, more typical 'pier' than the rest of the natural beauty.
We stayed in the heart of the action in Chinatown's Grant Plaza Hotel. A great location for walking and getting around, although it was mid re-furb so not peaceful! Definitely good value for money as SFO is a very expensive place to stay.
House of Nanking has the most amazing Chinese food we have ever tasted. Recommended by a local, we queued outside (against our normal principles – but the line moved fast) and sat down in a very basic venue to eat some amazingness. We asked the neighbouring table of Irish girls what they had as it looked so good and they told us they had been instructed by locals on their order, so passing on the great tips, here is what we had and you should try, it has set a new bar for Chinese food:

Hot and sour soup – the best we've ever had!
Onion cake
Sesame chicken
Crispy noodle with beef (I'm getting hungry again thinking about it!)
Alcatraz – we were recommended the evening tour where you get the best of both worlds with the sunset and dark on the boat. We were also lucky enough to have our tour booked the day of the 53rd anniversary of the escape… I am not usually big of historical sites but this is a really amazing tour, you really feel the past. No joke – book the tour 3 months in advance or you will regret missing out (it gets sold out so fast).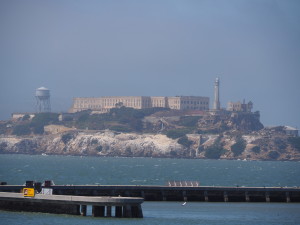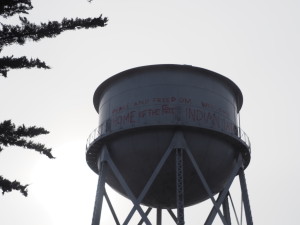 Lombard "crooked" Street – a steep walk but worth it for the views
Union Street shops, a lovely area for shops, cafes and bars. Not close to Union Square!
Check out the California Museum of Science on a Thursday night, they have an adults only late opening with drinks and music for $11.
Do grab a tour bus if you have a short time, you will see a lot and figure out where you want to get out to see sights quickly.
Top tip for SFO – take layers and comfy walking shoes as you will walk a lot, and the weather is unpredictable, hot one moment and windy the next when the fog rolls in!
Take a trolley tour and try and get to hang on the outside, so much more fun than sitting inside!
Pop over the bridge to Sausalito (apparently where Otis Redding penned his hit 'Dock of the Bay'). I am told you can ride a bike over the Golden Gate Bridge to visit this pretty area.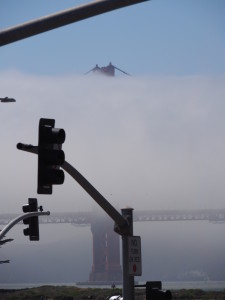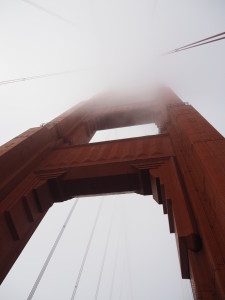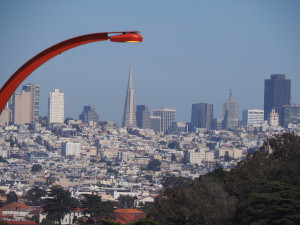 If you plan to visit Muir Woods, try not to go on a local bank holiday or weekend. We went at midday on a Saturday and we couldn't find anywhere to park so decided to avoid the stress so we missed seeing the scenery for the epic Rise of the Planet of the Apes!
Things we aren't too sure about:
Planning your day around views – we went over the bridge twice and the second time we could just about see it through the fog. The weather is unpredictable!
Pier 39 and that area is very touristy. Although I wouldn't say 'avoid' it, just be aware of what you are in for!
Point Reyes Lighthouse – this was recommended and I think it is nice, but again there are nicer places you will see without trying on your trip.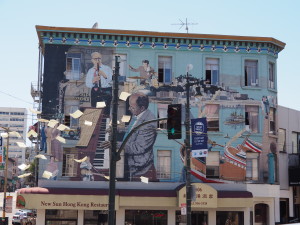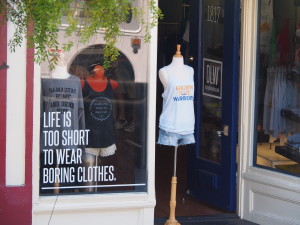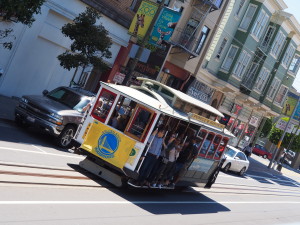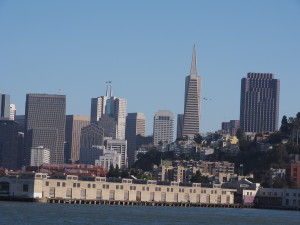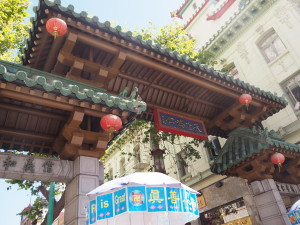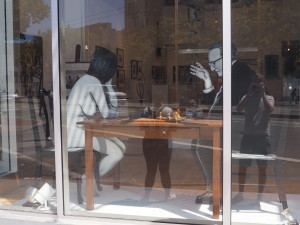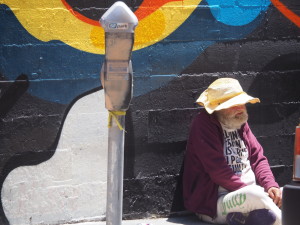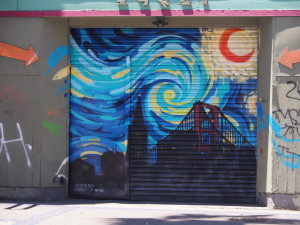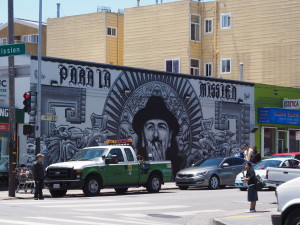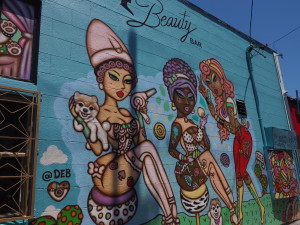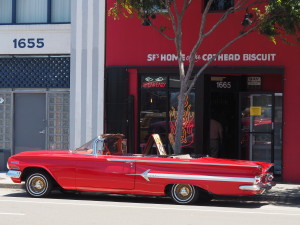 Do try to spend as much time as possible here. We ended up arriving at 4pm so couldn't do any wine tours/ tastings at that time. We did go to the Andaz roof terrace for some wine before dinner which was lovely.
The wine is delicious, I consumed as much California Cab as I could whilst there (headaches from red wine are awful but worth it!), but I was surprised that it wasn't cheaper where it is made, as opposed to most other wine regions I have visited (where you want to cry because the wine locally is a fraction of the outrageous export prices at home!).
On our drive to Napa we went through Petaluma, which was a quiet and scenic town. The cheese factory there looked like most picturesque place to stop for a break and lie in the sun on the grass.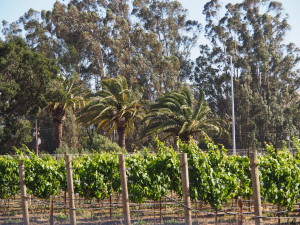 Things we aren't too sure about:
Bouchon Bistro – I was excited about visiting as it is the casual sister restaurant of French Laundry. However I think you can get much better steak in other places at better prices, like my favourite in London Relais de Venise. Although the ice cream profiterole dessert was delicious! It has put me off trying French Laundry a little, but we will see if we end up there one day…!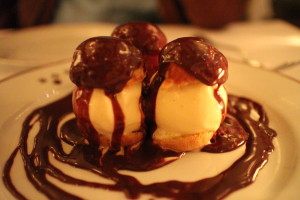 We weren't able to spend as much time here as we would have liked but ended up driving all the way through the park with little pit stops like Mono Lake, which was once used as California's water source and almost dried up – now you can walk amongst the bedrock!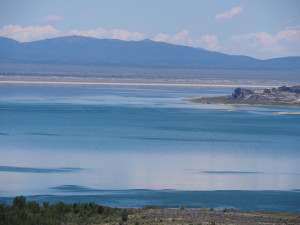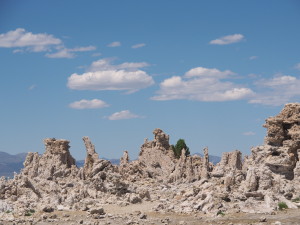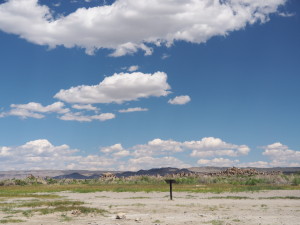 Ze German thought this was the 'real' wilderness, with huge boulders and dry landscape – and I was looking around for Yogi bear! If you want to stay in Yosemite, the easiest way is camping or lodges. The lodges get booked up early so it can be difficult, so we chose to stay just outside the park in Mammoth Lakes which was still beautiful and we loved it. At Juniper Springs resort, we were upgraded to a one bedroom lodge room, so we had a fireplace, kitchen, balcony – everything you could want, it was just a shame we were only there for one night. The park does cost $30 entry per car, so have cash ready.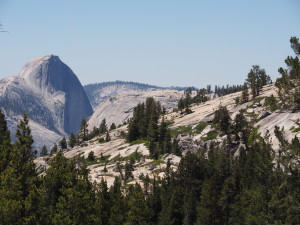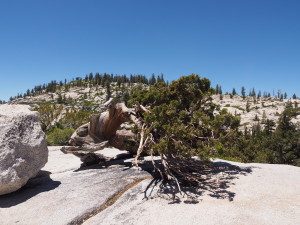 Another one of my favourites, although I have never been anywhere so hot in my life! We literally ran out of the car to take photos of the sand dunes and then ran back – it is scorching!
Do plan ahead/ stop off at the visitor centre to get advice on what to do. We are glad we did, as although we were disappointed to learn that we would need an SUV which we didn't have, to visit the Race Track (it is on my bucket list), it is better to know before you spend time trying to get there.
Do the Artist's Drive, it is unbelievable. We did it just before sunset and although all around you is lovely here, this scenic drive is something else.
Best sunset spot is Zabriskie Point – make sure you turn around after the sun is almost set and see the colours reflected on the rocks in the distance behind you. It is all beautiful and surreal.
Do drive out in the desert to a spot without buildings and lights (easy to find, probably 10 minutes from your hotel) and look up at the stars – you will have never seen so many stars, this dessert is a 'gold' level location for star gazing.
We drove at 4am through the desert with the top down to see the sunrise – I think this is one of the best things I have ever done.
If you, like us, need petrol at an ungodly hour, try and have a plan. We were lucky and found a gas station open at 6am in Pahrump.
If you don't have an SUV and want to do some off roading, you are able to rent jeeps easily if you ask your hotel/ the tourist office. They are not cheap but if you have the time they are worth it. And you will need a lot of time! (those roads even in SUVs take 3 times longer than you may think – google maps will give you an accurate drive time).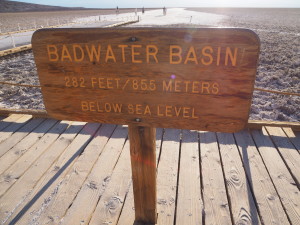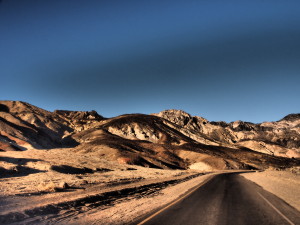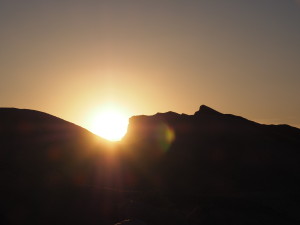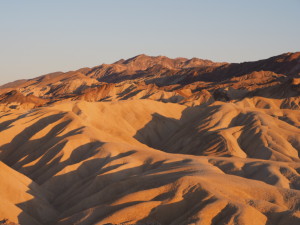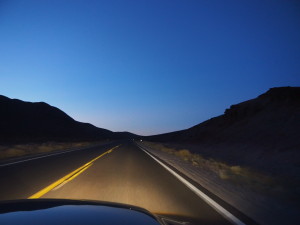 Things we aren't too sure about:
We were a little disappointed by the Badwater Basin salt flat, it wasn't as geometric as the photos I have grown up seeing. Still a cool spot, but just manage expectations.
If you want something cooler than we had (30 degrees at night outside) don't stay at Furnace Creek as this is one of the hottest parts of the desert (as the name suggests), but it is also the most central spot you can stay in the park.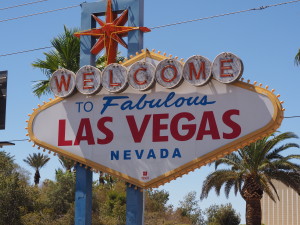 So many tips I could give you for this adult Disney land…
Book a grand canyon helicopter tour. We went on our first one here and it was phenomenal. If you are planning to stop in the canyon as part of the tour, book an early slot otherwise it can get too hot and that part of your trip can be cancelled.
Drive to the Hoover Dam. I dint think it was going to be so interesting, but actually it's a cool place to stop for an hour or so.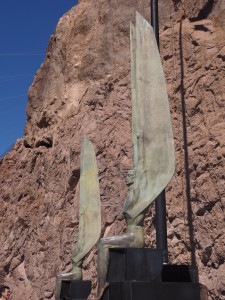 Choose your hotel wisely. Pick a place on the strip, look at what the hotel has in-house and if it interests you, as you may spend a lot of time here. We stayed at the MGM Signature which is nice and quiet but connected to the hubbub too. Other important hotels to visit:
By the way, you can actually rent hotel rooms through air b&b here, I was surprised but I guess in Vegas anything goes!
Shows are a-plenty here, and can be expensive, so choose carefully. I wasn't sold on Cique du Soleil as I think we are spoiled in London with all sorts of amazing shows. I would recommend the David Copperfield show if you are into illusions. I would definitely try Penn & Teller when I am next there.
Learn to gamble – you won't master craps (I still have no clue!) but try out roulette which is easy, and watch how the others play, ask questions – they will all be happy to explain. Once comfortable, promote yourself to play black jack or Pai Gow poker – look online for rules, these are some of the easier, fun games.
Some rules to note for Vegas casinos:

Look out for the table's minimum bet before you sit down to play. Go for a $10 minimum ($15 in nicer casinos like the Wynn).
Don't take photos of the gambling – they don't like that!
Do not touch anything on the table once the dealer has waved their hand across the table – this means all bets are done.
Once the results of the bets are clear, do not move your chips or touch anything until the dealer moves their stamp off the table – they are now finished paying out, and you can take your winnings/ move your chips.
If you play, waitresses will bring you free drinks – but they know what we are all angling for, so the drinks take a long time to come… Give the waitresses $1 tip per drink and you will be treated well.
If you are sitting at a table and not playing, get up if someone comes along who wants to play and needs a seat.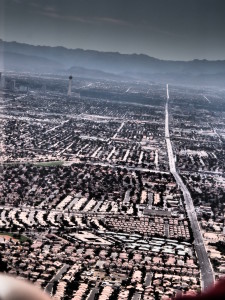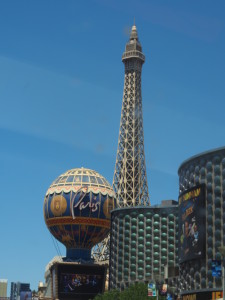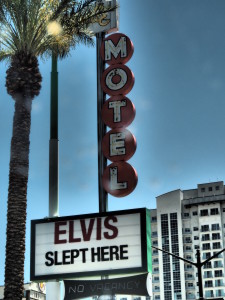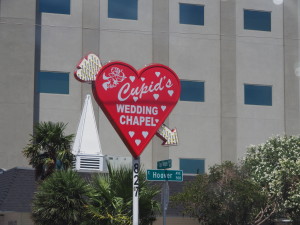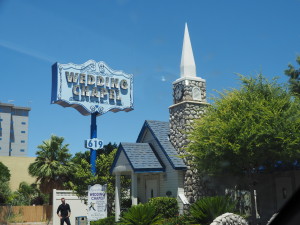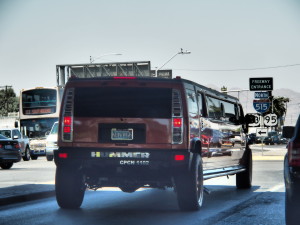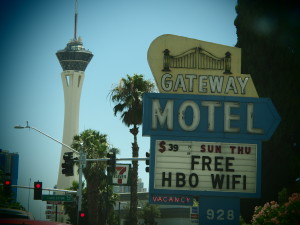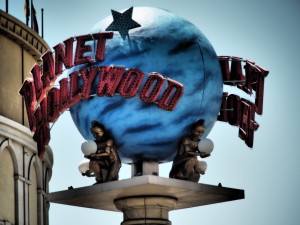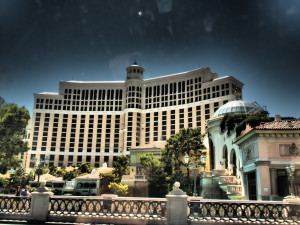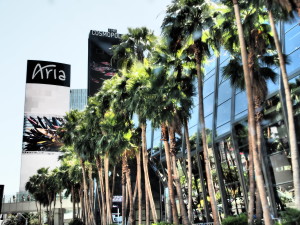 General Tips
Book your trip flexibly – we booked the flights and Vegas hotel with Trailfinders so that we got a great deal on that, but were able to be much more flexible with the rest of our plan. See what works best for you, don't just book a package – or think you can easily do it all yourself, without input.
Consider doing our trip but in reverse. Although we loved arriving in Vegas as a last stop, to have our suite after days in the car – driving the other way (LA at the end) means you will always have the water closer to you when you are driving Highway 1.
Take lots of cash (in advance if you get charged for international withdrawals). You will always need cash and especially small bills for tips as you go.
Download the Uber app if you don't have it already (why don't you?!). California has Uber cars available all over, easy, cheap and convenient transport in a place where public transport is not comprehensive. This is much cheaper than a local cab, and reliable. You can even do an 'Uber-pool' and share the car ride with other locals to bring down the cost of a long drive. Try it out.
Consider your accommodation requirements. In retrospect we wondered if we would have been better off without booking everything, but it depends on your risk averseness! Definitely look at Air B&B over hotels, as you can get good value and a local to help you prioritise your visiting itinerary! From unique buildings (like our water tower in Big Sur) to local intel, these accommodations can be amazing value.
Be prepared for wildlife! Coming from the UK we are used to seeing small, cute, manageable wildlife like squirrels in the park. Travelling through the rugged Californian environment, you may never encounter more than large birds and seals, but be prepared as especially in the National Parks there are some big things out there. Raccoons can look cute but can be aggressive. What do you do if you find a mountain lion (yes, seriously!) and what do you do when you bump into a bear? It made for funny moments and conversation on our trip but it made me painfully aware how 'civilised' we are and not so well equipped for nature mentally as we'd like to think we are, so just have a read and be prepared 🙂
Pack light but the necessities. We packed for:

The city (heels, dress/ jeans and nice tops, handbag, leather jacket, things that don't need ironing and are re-usable!)
The wilderness (shorts, leggings, trainers/ walking boots, rain jacket)
The car (loose, light clothes for sitting in the sun in!)
Layers – important for the whole trip – we were a little surprised that sunny California can get cold, but on he coast the fog and mist by the water can bring in very cold air and in San Francisco Alcatraz felt Arctic… so pack layers and some warm things to take with you when you are out.
And the other bits: water (stock up once at a supermarket and you'll never be in need at a hotel or outside), sun cream, sun hat, hand fan, plasters, electrolyte sachets… whatever you think you need in your emergency kits + fun things like our mascot Ian the Tiger!
Car Hire
We always look for the cheapest deals as we aren't members of a club like some of you may be. I have found that this means that basically it will always be a pain in the proverbial to get your car keys. From renting in London to the Dollar car hire in LA. 50 questions about upgrades and trying to sell us things that we don't need… we have booked what we want at the price we want… but they don't let you get out so easy. So basically, be prepared to say a lot of no's and wait 15 min at the desk (not in line, that's extra) before you get your keys! Some tips:
If you aren't a driver normally (like me) or need different insurance, consider taking out a separate car insurance policy, rather than paying the hire company's expensive daily charges.
We booked a Mustang Convertible and we loved it! Think carefully about what you want and what you might need – boot space for luggage, GPS (you'll almost always have to hire on top of the car hire), SUV for off-roading (we couldn't see some things we wanted because our suspension was too low, for example we missed out seeing the Race Track in Death Valley).
I could spend forever writing tips and stories about my trip, but I want to get this info out there to you all so you can make good use of it! I am sure of one thing though, which is that whatever route you take and whatever you do, this trip can only be an amazing experience!