Last Friday, I finally got to try out Chotto Matte in Soho! Where to begin? The restaurant opened in September 2013 and I have been dying to get there and sample the Nikkei cuisine on offer, for some time.
So what is Nikkei? It is the culinary fusion of Japanese and Peruvian cultures. Apparently Peru has the second largest Japanese population in South America, so it has developed into one of the hubs of Nikkei cuisine, which came about when home-sick Japanese migrants looked for ways to create homely meals with locally sourced ingredients. The beauty and flavours of Nikkei are astounding. It is so artistically rich, flavourful and taste-bud-blowing, that it seems impossible that it a)exists and b) took so long to become a craze! The delight of it for me is that it gives me a renewed wonder about new flavour movements that are still to come in the future – we haven't tried it all yet, and hopefully never will!
The history of Chotto Matte is intriguing, well at least for me. Opened by Kurt Zdesar; the man who brought Nobu to London and established Ping Pong for us have easy access to steaming parcels of deliciousness… well that sets the scene for you already! Next, we have executive chef Jordan Sclare running the show, with extensive experience in awesome restaurants from working with Ramsay, The Savoy and Aqua Kyoto (and incidentally Nobu). He seems to be super enthusiastic about what he does – and it is contagious!
The restaurant itself is set across 2 floors on Frith Street, almost opposite Ronnie Scotts and in front of the old Dog & Duck pub. As you enter on the ground floor, you are welcomed by a dark, trendy and fun bar. The walls are covered with a giant mural of UV Japanese manga art by Houxo Que, the bar is made of lava stone, and the cocktails are stylistically based around Pisco, Soschu and Sake. In the summer, the front windows disappear and it becomes an indoor/ outdoor space, although you may get lucky and bag an outdoor table any time. Although the real action is at the first floor restaurant, there is a sushi bar on the ground floor, run by Tetsuya Kato who was once the personal chef of the Emperor of Japan!
When we arrived at 6:45 for our reservation, the bar was already busy and buzzing, so if you are only planning to drink downstairs, I suggest getting there early! Leaving our things in the cloakroom, I took a quick pit stop in the bathroom downstairs before dinner. What fun the bathroom was! You press a buzzer for the smoked glass doors to move aside as you enter the dark clubby space. Tip for the ladies – push the doors HARD to see if the cubicles are free, luckily someone was there to tell me, or I would have been waiting ages! There was a disco ball INSIDE the cubicle – I had to take a photo I was having so much fun already! The cool triple mirrors by each sink are sensor activated, so you have to remember to move a bit if you are planning to stay and do your make up. Ok enough about the loos!
Upstairs in the restaurant, we got a table for two in a corner of the booth-banquette, making a perfect spot to get close for our date night. We also had a great view of the open kitchen area (counter seats are also available to get up close and personal to the food). Our waitress for the evening was a really enthusiastic girl from Madrid. I will get her name wrong now, so I will call her 'Not Rosie' as she had explained how to pronounce it properly (so sorry!!). She was so fun, and really, helped make our experience great – so thank you!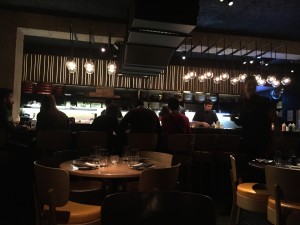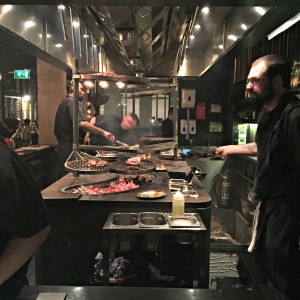 We started with a Pisco Sour for me (Not Rosie dared me to get to 3 without being wasted…) and a Monkey 47 gin with Fever Tree for ze German.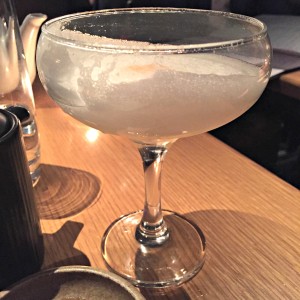 The menu was immense. I had obviously been studying it like I was cramming for a GCSE before getting there, but I was overwhelmed… so many things sounded so good, I didnt know where to start. There are a number of reasonable menu choices, with 5 set menus ranging from £40 – £79 per head, a £25 pre-theatre menu from 4-6.30pm, as well as bar food and cocktails downstairs.
Thankfully ze German had a better idea and we went for the daily specials set menu for £50 per person (this changes regularly so well worth a peek). The restaurant is not cheap, but I will tell you up front, you will feel well rewarded for every pound you spend, the food is super quality and filling. We were STUFFED after all this – so probably you could have 3 small dishes per person and 1 or 2 larger ones to share and you would be happy. Our meal for the evening: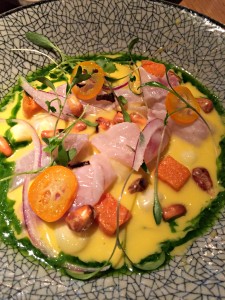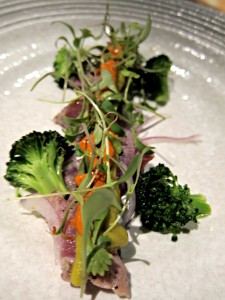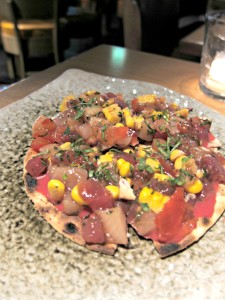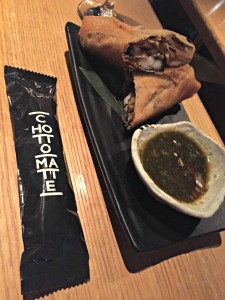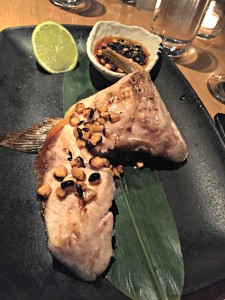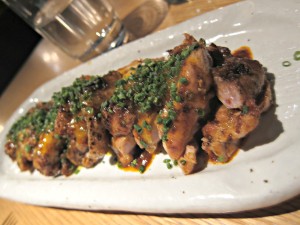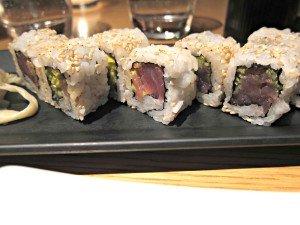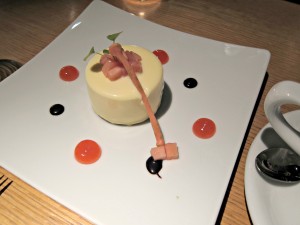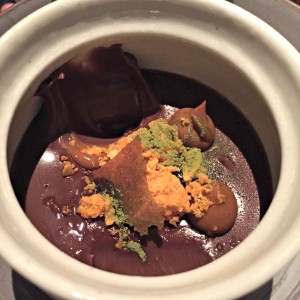 Chotto Matte is possibly one of my new favourite places in London (you can clearly tell this, as I was too busy enjoying the food and myself to make notes of the full names of my eaten dishes!!). I rarely get that tingly feeling of happiness from the atmosphere, the service, the venue, and the food which leaves me wanting to come back and try everything else next time… as ze German knows, my favourite bar in the world is Aqua Hong Kong, and as he probably sensed, this is probably going to be my new hangout of choice for a long while. Everything we ate, even the things we normally hate (Rhubarb for me and Coriander for him) we liked… do your mouth a favour and book a table!