From the very first time I visited Dublin, I fell a bit in love with it. It was 2008, and Holly Golightly and I decided that we should be in Dublin for St Patrick's Day to celebrate her father's Irish heritage and well, Aer Lingus flights were £35 return so it would be just rude not to! I have been back a few times since, and funnily enough, ended up there three times in the last year. So in time for this St Paddy's day (or any time in beautiful Dublin), here are some of my highlights for the area!
Eating
$
Bunsen – A small burger joint with a similar style to London's Patty & Bun. Set just a little away from the hustle on Wexford St, you have a focused menu of a burger, a cheeseburger or a double version of these and that is it. You can choose from shoestring or sweet potato fries and shakes or soda. Simple but delicious. Unfortunately nothing here for Veggies, but Henry who doesn't really eat red meat, wolfed this down!
Cafe H – In the Docklands, it is a little bit out of the way of the average Dublin tourist. But if you take a wander down that way (which you should) this is a great place for a cocktail or pizza.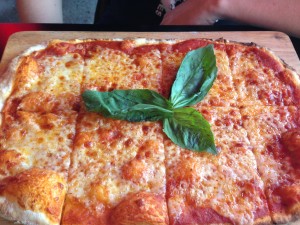 Elephant & Castle – Funny to name a place in Temple Bar after a London tub station, but whatever the inspiration, it seems to work. Pop in here for some legendary buffalo chicken wings with super spicy sauce, or for a delicious brunch.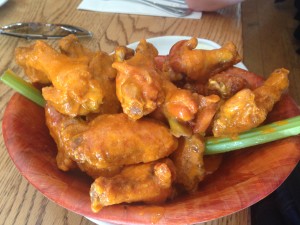 Le Petit Parisien – I love this place! We had a great breakfast here at the Dame Street branch (full Irish for under 9 euro), and we went back for coffee and tart too! A real slice of Paris in Dublin, you can sit by the fireplace (or watch the footie), this is romantic and functional!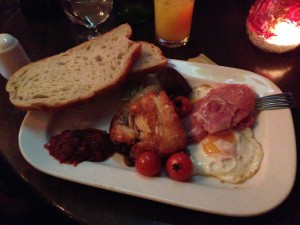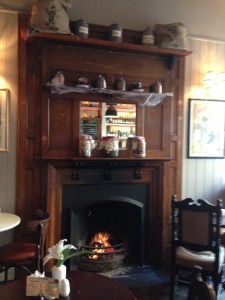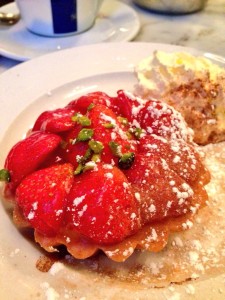 Lolly & Cooks – amazing sweet and savoury snacks in 3 locations across town – keep an eye out for them, so delicious!
Pitt Bros – I haven't had a chance to check this out yet but it looks like a fun, comfort food type of place on George Street. Loving their window signage. (Another similarly themed place with homage to chicken to try is Crack Bird, or burger bar Bobo).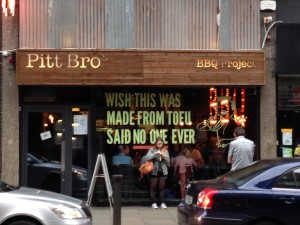 $$
Bang – A nice place with a good vibe, staff make you feel special and the food really just speaks for itself. As the restaurant says "We offer exceptional quality food at great value, in relaxed and informal surroundings" – hits the nail on the head. Definitely worth a visit for something delicious and a little special – they have some private rooms too!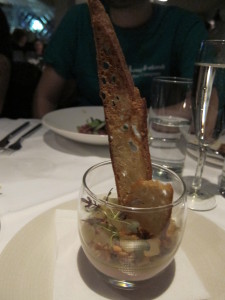 Chop House – Over by the Aviva Stadium in Ballsbridge, there is a very lovely gastropub that needs to be checked out! If you are a local, join up for the Beef club; if you are visiting and can't get tickets to a game, book the Artichoke room for a private showing; or just grab a delicious roast in the restaurant. Yum.
Fade Street Social – similar to the 'socials' that Jason Atherton has been populating across the globe lately, Dylan McGrath is on a mission in Dublin. Alongside Rustic Stone and a few others, this venue offers 3 in 1 depending on your mood. You can go to the full restaurant, tapas bar or outdoor area for some delicious farm to table cuisine.
Fallon & Byrne – Set over a number of floors, you can choose between the wine cellar with nibbles, the food hall or restaurant for a pit stop, shopping, or a sit down meal. I haven't been yet, but looks like an interesting concept!
Jaipur – AMAZING Indian food in the heart of Dublin. Although I sadly read today that the original George Street branch has closed due to the sale of the building, there are still plenty of sister restaurants to sample. Spicy, stylish food that will make you an addict!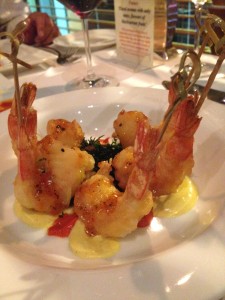 The Pig's Ear – similar to Bang, this is a lovely space with reasonably priced, delicious food. They even have a chef's counter you can have a special dinner or lunch at too.
Rustic Stone – A fun place near Temple Bar where you can cook your meat to your liking at your table! The concept is "To add creativity and flavour to the finest ingredients in the most nutritious way possible." In reality, it is quite a lot like doing some apres ski raclette/ hot stone, which is always a good time!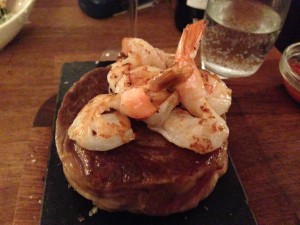 $$$
Chapter One – On the north side of the river, you will find this little gem with a Michelin star and great quality, locally sourced food. The chef has trained at El Bulli – so you know what kind of quality and whimsy to expect!
Patrick Guilbaud – This is Ireland's only two Michelin star restaurant, and it is totally understandable why. The food is divine, the staff great, and if you are lucky like we were, you might get to meet Patrick himself! Read about our visit here.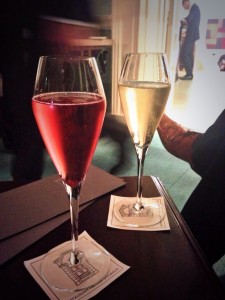 Thornton's – Another Michelin starred beauty. This time in the unassuming Fitzwilliam Hotel near St Stephen's Green. Looks amazing!
Here's more food-spiration, should you need it: http://www.telegraph.co.uk/travel/destination/ireland/dublin/34438/Dublin-restaurants.html 
Nightlife
$
The Brazen Head – Billed as 'Ireland's oldest pub' this is a little less authentic than you might want, but still a great craic with live music every night, and Irish storytelling nights!
Dakota – In the buzzy area around St Stephen's Green where more of the locals go, this is a fun bare-brick bar, reminiscent of Shoreditch in London. Grab a cocktail and get chatting to some students!
Foleys – An old school pub with barrel seats for mixing with locals near Merrion Square. Alternatively pop into the Bistro for some cocktails and class.
Grogan's – my favourite place. A typical old man pub in the heart of town; we spent the best part of our first St Paddy's day here. There is no music or entertainment, just locals to get to know and a pretty amazing toastie! The art on the walls is for sale which is pretty cool. To put it into perspective, 5 years later I went back and found the same man behind the bar and me old mate Colin with his Guinness. If 'Cheers' came to life it would be here.
The International Bar – A beautiful building on Wicklow St, with a great history. The bar's claim to fame is that many Irish comedians have performed here before catapulting to fame. It also has live music in the basement most nights, as well as ad hoc musicians in the tiny bar on the ground floor. And well, Holly and I met a man here, who was a kids party clown, who had once ridden an elephant in India and carried a photo of it around in his wallet… err, its  a great place to hear a random story! Classic Dublin.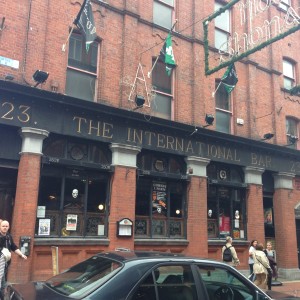 Oliver St John Gogarty's (aka Gogarty's) – On Temple Bar, you can visit at pretty much any time to enjoy a drink, food or some lively music from the house bands. It is exactly what you expect when you head to Temple Bar,  a bit of a tourist trap but so fun.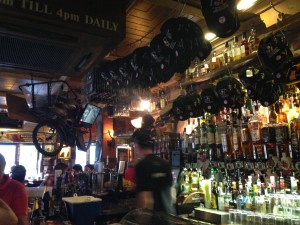 Porterhouse – There are a few of these dotted around Dublin (and of course there are the satellite bars in London and NY), you know what to expect here, LOTS of beers and music and fun!
The Temple Bar – It's a pub, not just the name of the area! Open since the 1800's, this is a great place in the centre of Dublin to spend an evening (as we did), non stop live music in a busy but civilised pub with lots of good drinks and a beer garden.
$$
37 Dawson Street – I only found out about this place after my last trip, so on my to do list, but looks cool for a drink or bite when about town.
Copperface Jack's – Apparently it's THE club to go to in Dublin, according to most young folk and G-man's local relatives. Unfortunately we haven't made it there yet but one for the list!
Lillie's Bordello – Hidden just off Grafton Street next to the Porterhouse, this is a wonderful place. Open til late (5.30am the night I went), with a fun stylish crowd in a 1920's/ Moulin Rouge venue, you are guaranteed to have a good time. Try the smoked Old Fashioned for a bit of entertainment, as ordered by Mr Old Fashioned himself!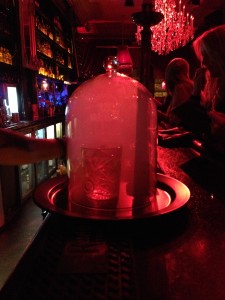 The Liquor Rooms – Part of the Clarence Hotel just behind Temple Bar, this is a great spot for cocktails. With a prohibition theme, nooks and crannies to sit around in, interesting furniture and music, and food available as well, what is not to love?!
The Morgan Bar – Apparently another trendy spot to drink and dance… have not yet been but looks interesting. Unfortunately the website doesn't tell you too much, but if you are on Fleet street, may be pop in and give it a try.
Vintage Cocktail Club – You will need to book in for a 2 hour slot here, like most current speakeasies, but it looks like a great experience. From the extensive cocktail list to the beautiful interior, this is on my to do list!
More Nightlife Ideas: http://www.barchick.com/city-guides/dublin 
Accommodation
$$$
Arlington Hotel – There are a couple of these and we stayed at the Arlington Temple Bar. The location is perfect if you want to have a boozy weekend and want to be near Temple Bar! It's a simple 3 star but clean and not as loud as we thought! Pop into the bar/ restaurant next door for Guinness and ale pie or some karaoke!
Cassidy's – A simple hotel on O'Connell Street that is walking distance to Temple Bar but in a slightly quieter area. It is opposite the Gate theatre and by Parnell Square, the hotel is set across 3 red brick Georgian town houses that have been refurbished. Staff are friendly and helpful.
Fleet Street Hotel – This is probably my favourite for the price range. When the taxi dropped me off in the heart of Temple Bar at a TGI Friday's telling me that was the hotel, I was a bit concerned. It has been converted into a funky little hotel that you would never imagine. A lot of thought has gone into the entrance and lobby area, staff are friendly and the rooms are comfy. Winner winner, chicken dinner!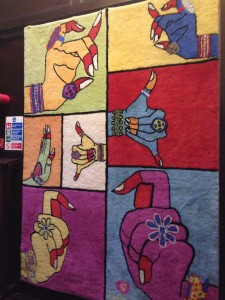 The Mercantile – This hotel has it all, music, football, food, drink… it probably gets super busy but has a great location and everything in one place. I haven't stayed here but walking past it looked nice and had lots going on.
$$$$
Fitzwilliam Hotel –  Set on the end of Grafton Street by St Stephen's Green, this has a great location. The hotel is new and trendy with fun rooms, although I felt the bar was not as cosy and inviting as the lounge and fireplace.
$$$$$
The Dylan – a lovely hotel, in a slightly quieter location, away from the hustle and bustle but close enough to get around. A favourite place for cocktails, this is a cute spot.
The Merrion – I couldn't not mention this one – it is where Restaurant Patrick Guilbaud lives! A beautiful, traditional hotel with an absolute feeling of understated luxury.
The Shelbourne – A beautiful hotel just near St Stephen's green. Everything you could want from a 5 star hotel, this city centre hotel even has a spa.
The Westbury – You can't get a better location than Grafton street and this sexy hotel is a perfect spot to stay, drink at the bar, or have an afternoon tea. Part of the Doyle Collection.
And if you want something a bit extra, head a little out of town and try a castle! 
Things to do
Butler's Chocolate Cafe – you must visit one of these! My favourite is the small cafe on Wicklow Street. You can book all sorts of experiences, but the simplest pleasure is to pop in for a rest and a coffee, and claim your free Irish chocolate to go with it – divine…
The Docklands – Most people pass this area by as being undeveloped wasteland – it is not any more! A little like the London Docklands, this area has been regenerated and now home to the offices of some large corporations. You can walk along the water and see some of the old area still around including the harrowing Potato Famine Memorial, as well as the new offices, Aviva Stadium, Bord Gais Energy Theatre and plenty of lovely places to stop for coffee, food or a drink as well.

The Guinness Harp Bridge

George Street Arcade – pop in here, and take a wander around the surrounding Castle Market area for some cute shopping ideas or just a little mooch when hungover. (Plenty of kinky shops around here too… I wonder if this wasn't once the red light area!)
Guinness Storehouse – A must see for all of us on the pilgrimage to Dublin. I didn't visit until the last time I went to Dublin and glad I waited, as I was with hardcore Guinness lovers (I am not one) and they have developed the whole thing into a magnificent experience now. From understanding the brew process, getting certificated for pouring the perfect pint, to hanging out in Arthur's bar with live music, before an obligatory shop as you leave, this is a really fun day out. We easily spent 5 hours here – plan to spend your day and you wont be disappointed! Tips: Book tickets online in advance to save 10%, arrive by 11am latest to enjoy it properly and take a bus/ taxi to get there. Spend more time at Arthur's Bar than the very packed Gravity bar.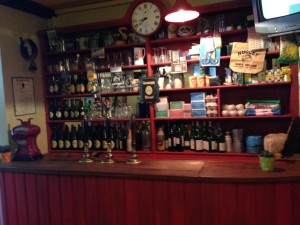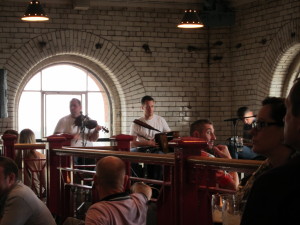 House of Names – If you have an Irish history, you might find it interesting to pop into the shop on Fleet Street  to see your family coat of arms or get some custom memorabilia.
Jameson Distillery – I am not a whisky fan and therefore have not been here, but if you are, I suggest you go! I have heard good things about this tour, so worth booking ahead (tickets go fast) and heading over for the experience and possibly test out the restaurant in there too! (It is also close to the Guinness Storehouse, if you are feeling lush!). And if you like whisky, pop into the Celtic Whisky Shop on Dawson St for some fun!
Johnnie Fox's – this is the highest pub in Ireland apparently. And if you aren't convinced to visit because of that, maybe the live music, Irish dancing, and sawdust on the floor will give you something to think about! It's reminiscent of auld Ireland but with a bit of theming!
Pub Crawl – honestly, this is not hard to do successfully in Dublin! But, there are some (few and far between) rubbish pubs to avoid. I can't think of specific names, but to help you make a start, rather than blindly heading to Temple Bar and walking into the equivalent of a Wetherspoons (sorry if you like it!), this has to be my favourite pub crawl guides (especially since a lot of my favourites are listed) – thanks Time Out!
Go greyhound racing at Shelbourne Park like the locals. I haven't been but heard it's a good craic!
St Stephen's Green – take a walk in this lovely park!
Trinity College – Like visiting the 'spires of Oxford' Trinity college is a monumental and beautiful place to take a walk. You can also see the ancient Book of Kells here.
St Patrick's Day Parade – March 17th is always a big deal wherever the Irish are, but what better opportunity than in the home of all things Irish to take part? Drink green water, eat Guinness pie and watch the parade go by. It has a bad wrap, but the festivities are pretty awe-inspiring. The Dubliners seem to take every chance for festivities seriously – last Halloween even the shops got involved!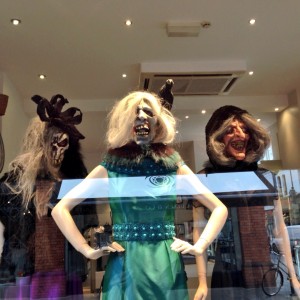 The Fringe – if you are in Dublin in September, don't miss the opportunity to see some great shows at the Fringe Festival.
AVOID – the bus tours. This is a city much better seen by foot with little pit stops. We took the bus tour and it really wasn't worth it.
Further Afield – you can drive out to some beautiful places in the county of Dublin. Head out down the historic Military Road and through the stunning vistas of Sally Gap, to reach the picturesque Powerscourt Gardens and Waterfall. If you have more time drive through the Wicklow Mountains to Glendalough. On the way back, check out the beaches of Bray for a relaxed pace before getting back to the city.
Get some tips for walking and driving routes here: 
http://grandtour.ie/touring-routes/
And if you want to be driven around so you can sample the local tipples en route… try these guys at MT Cabs – they do tours!
Hope your trip to dynamic Dublin is as wonderful as my trips have been! Some pics to get you excited: