The Waffley Duck… one of my favourite spots in the heart of the City of London. It doesn't matter if you are looking for a spot to entertain clients, host an event, have a special couple's night, friends' catch up, or completely wasted and realise at some point that you need to eat – the Duck and Waffle somehow has the very rare and special ability to be the right spot for whatever you need it to be. It has the casual glamour and lack of pretentiousness, that is hard to find – the holy grail of city venues.
Since it opened in 2012, I take every opportunity I can to take the super-fast lift that goes from (the sometimes annoying door-staff and) the ground floor) to the Heron Tower's 40th floor.  The view is superb, as you jet into the clouds (be ready to hold your nose and try and breathe to adjust air pressure!) get your camera ready for an epic view. And that is all before you even get to the restaurant.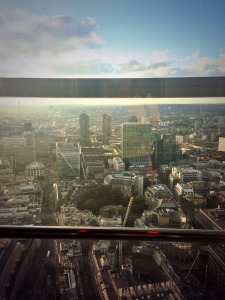 The first point of entrance is the bar area, where you can relax, grab a drink at the bar and enjoy the view. Surrounded by floor to ceiling windows, whatever time of day, this is a great spot to relax and watch the world go by, literally. I love the cocktails here, whatever you like, they will have it. And best of all, you can usually find a modern twist on a classic, like my favourite the Smoked Cosmo, which is infused with roasted bone marrow – tastes better than you might think! Sometimes a leap of faith can show you new frontiers! Or you can keep it simple and have a nice beer.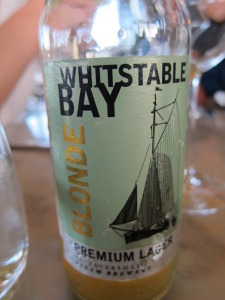 The main restaurant also has the same magnificent windows and even more spectacular views. You can see everything from Canary Wharf to the west end.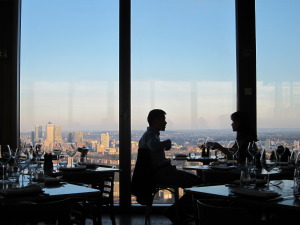 There are cute tables setup by the windows or you can go for a leather booth situation, which I find to be a bit more comfy to settle in for an evening of good company and great food.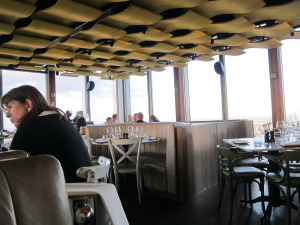 The chef, Dan Doherty, has very obviously put a lot of thought into the menu. It is simple, elegant, modern and superbly executed from appearance to palate. The idea behind the menu is sharing. Some of my tried and tested favourites are the Ox Cheek Donut (mashing sweet and savoury to perfection), Smoked Mozzarella and the signature Duck & Waffle. Another recent addition that I love, is the fois gras creme brulee, and we always start with the rosemary garlic bread. If you have any room left… go for the chocolate brownie with peanut crunch. Clearly, the more you want to try, the more friends you should bring along!
Wine is reasonable and service is always friendly and helpful. I imagine that everyone here works hard and plays hard together. It has a well oiled and fun vibe that seems to transfer to the diners. The first time I brought ze German along to try out the Ox Cheek Donut, they had run out. I was so sad, but did my best to not break down into a tween tantrum. A few minutes later without any prompt, we were given the amazing smoked Mozzarella dish free of charge as an apology for running out… that's what I call class.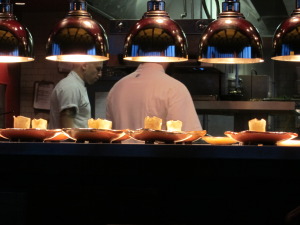 One another occasion, I had been making my way around the city, checking that the beverages on offer were of good standard (someone has to do a mystery shopper check now and then, it's surely a public service!), and lets just say that by the time I sat down to order my D&W at 2am (they have a 24 hour licence), my elbow had become disobedient and kept throwing the fork on the floor… yet our waiter persevered with a (I believe) genuine smile each time. So for me, this has a special place in my heart. They put up with me inebriated and humoured me as if I were a 2 year old. For the views. For the staff. For the food… this is my little glamorous home for a few hours when I visit. If I were Gatsby, I would be here each night!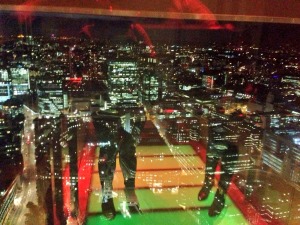 If you haven't been already, head to Duck & Waffle and check out the scene and make some favourite memories with food, drink, and people you love.
If you have been already, then take note – Duck & Waffle and Dan Doherty have just published a cookbook so you can try your hand at the recipes at home!
And the 24/7 restaurant is open for xmas and NYE this year with some spectacular events planned.