In the last few years there has been an influx of Basque cuisine and chefs to London. Most notably the opening of Ametsa at The Halkin which is an offshoot of the 3 michelin star Arzak. Now, we have another exciting opening, Eneko at One Aldwych.
This opening is the vision of Eneko Atxa, another fabulous Basque chef from 3 starred Azurmendi in Bilbao. His signature style is all about the harmony of strong flavours, good techniques and locally sourced produce. The Biscay restaurant in Spain begins with a tour of the vast gardens that are the source of the meals you will eat. With the London outpost, the philosophy is the same, but the idea is to have informal but delicious meals, making what he makes special, and also accessible.
The previous site of Axis at the One Aldwych hotel has been re-vamped into a welcoming, cosy setting. In contrast to the former bright white restaurant, Eneko has dark earthy tones in the furniture but keeping it all looking light and natural. Perfect for our lunch. It was the first time I was taking baby to a proper foodie experience, and wasnt sure how it would go. Thankfully, she was well behaved and the restaurant staff were superb in making us feel welcome and assisted seamlessly to get the pram up and down the stairs too. Providing good attentive (but not overbearing) service and making customers feel welcome is the most important ingredient of a successful restaurant… I am pleased to say they do make you want to go back.
We started with this lovely aperitiv made with gin mare and sparkling wine…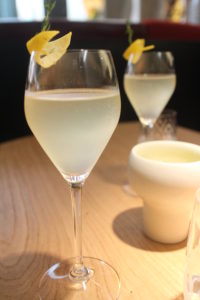 And were offered a selection of breads, I went for the mixed seed which was delicious, accompanied by a very more-ish creamy butter with chives.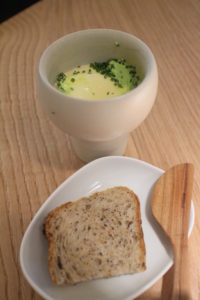 Our starters were delicious. We shared:
The squid marmitako – a spicy combo of squid and courgette in a broth. How they managed to make the squid so thin and tender is genius! This was my favourite.
Anchovy tempura – served with a tomato and ginger granita to cleanse the palate. The only thing I would have liked to see here was a bit more flavour in the accompanying mayo.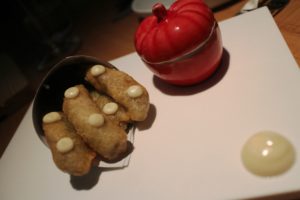 Traditional talo  – a mini corn tortilla with a salad on top, which tastes and looks amazing!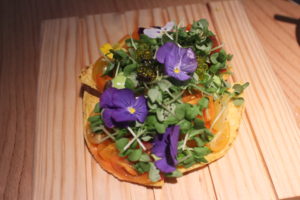 The chicken liver parfait with xakoli apple also sounded delicious, but we had to save ourselves for the rest of the meal!
For mains we went for seafood in keeping with the summer day we visited on.
The Cod Bizkaina with cod bites was delicious. I couldnt imagine what fish intestines would be like… they are similar to the squid ribbons in the starter, a surprisingly delicious taste and texture! This dish was slightly too salty for me but very good.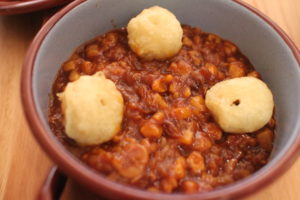 The Hake tempura with red pepper sauce was a simple but good dish. Had I gone for he meat, I think I would have tried the ox tail.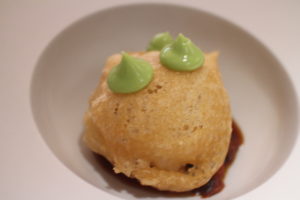 For dessert we managed to find it in ourselves to share (but not finish) the dark chocolate mousse with biscuit base. The carob nibs were perfection and the sheep milk ice cream sublime. Unfortunately the dessert trolley is more a shelf that doesnt move, which would have been fun, and they were out of Eneko's signature rice pudding lollipops which I was sad to miss. I was told the cheesecake is very good (as is presented upside down) but I am not a fan of cherries so this was the best dessert for us, washed down by a nice cappuccino.
Overall, a really lovely lunch with good service and setting. You can even see the kitchen at work in the back. The wine list is extensive and has a good Spanish range to peruse. None of the dishes are huge portions which is great as you have room to enjoy an entire meal, but once the soft-launch offer of 50% off is over, it may seem costly. A good spot for some fine but unpretentious dining when the mood suits, or when you have a hankering for something Basque then this is definitely worth a visit. I look forward to seeing this restaurant develop its offering further, for my next trip.