Goodwood is absolutely in its own right absolutely glorious. Each year when I have had the great opportunity to visit as a guest of a firm that I work with, the sun has been shining and the English countryside has never looked more radiant. It makes you understand why poets have written about this so passionately.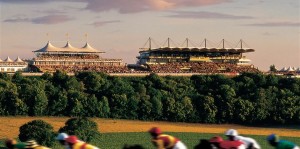 (image courtesy of www.goodwood.co.uk)
So what is Goodwood exactly? The Goodwood Estate is in the heart of rolling English countryside in West Sussex (near Chichester). The grounds have been used for world famous sporting events including the Festival of Speed (super cars), the Goodwood Revival (vintage cars), and Glorious Goodwood (horse racing). Goodwood house was built in 1679. The Duke of Richmond had a passion for hunting, which led to this becoming a royal retreat. Since then the estate has been developed into the beautiful social spot it is today.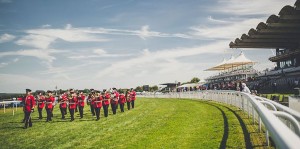 (image courtesy of www.goodwood.co.uk)
This is a grand scale venue, which I am sure you could use this spot in many ways for various events. From meetings, exhibitions, launches & conferences, to client hospitality days, weddings and celebrations. I think the world is your oyster with this venue. If you can get your audience out here (only 1.5 hours drive/ train from the big smoke of London town), you can give them something truly special. Just imagine an all out hire for a superstar sized party (think P Diddy white party), it's doable.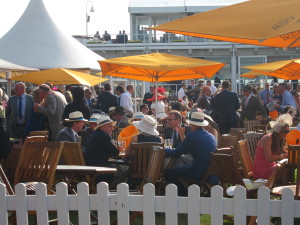 And so, back to our adventure on Ladies Day at Glorious Goodwood this year. We left the offices of our hosts in the city of London, armed with our well organised coffees and breakfast pastries to go, in the safe hands of our fabulous driver, who is thankfully not a newcomer to driving us to Goodwood. Efficient and discreet, we are in good hands with Vince, who owns the VIP chauffeur company RCS, and is used to driving around celebrities much more worthy than us! When we quizzed Vince about who was the 'coolest' person he has ever driven, his response was Bill Gates, who was 'super cool'. And the most fun celebrity? Tina Turner – but of course!
On the surprisingly quick drive from the City towards Chelsea and beyond, the sun shone and as we held on to our coffees, Vince informed us that we were now safely outside the borders of London (A3) so it was now acceptably time for us to indulge in our first bevvy of the day – I think pubs had begun to open so we were ok! And so from Costa, to mini bottles of Pommery POP with cute very English (biodegradable) straws.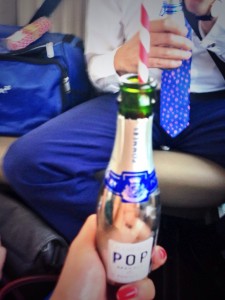 Top tip for drinking bubbly with a straw in a moving vehicle… once you pop you cant stop! When you drink the first sip from the bottle, take a chug or it ends up on the rug! So after conditioning hands, bags, carpet, clothes with bubbly, we started to get one another a bit better! (As you can imagine, the bubbles and Brit humour made for some great innuendos to break the ice!).
I learned that Duster has recently invested in a new restaurant opening on Shaftesbury Avenue which is part of the Jumeirah hotel group. The Noodle House is definitely a spot I am going to hit up soon for some South East Asian authenticity, with its 12 different kinds of noodles, 17 teas and variety of cocktails! We also got to hear about Top Tug's recent attendance at a fancy dress wedding where you had to go as a country… his photos as a Bengal Tiger were very inspiring!
When we arrived, we had a picnic in the car park… imagine that! It sounds odd, but it's actually a vast expanse of green where you can watch all the Bentleys rolling in whilst you relax and have a few nibbles. Although of course there are some people that take it to the next level, with tables, chairs, tablecloths, silverware… surprised they didn't bring the butler too! We had some really delicious food in cool bags all prepped to go thanks to Carluccio's.
Once stomachs were lined, we went in with our Richmond enclosure badges, but chose to relax in the very understated Jaguar bar instead this time.
Pimms was the order of the day, whilst we people watched the fabulous hats on Ladies' Day and listened to some of the bizarre conversations that happen when you put people from all walks of life together in the sun with excitement and alcohol (think TOWIE and Royals). I was even lucky enough to get invited to 'Trents in South Street' by some man wanting to buy drinks after the event was over… I must have been in with a chance with the Kray of Chichester!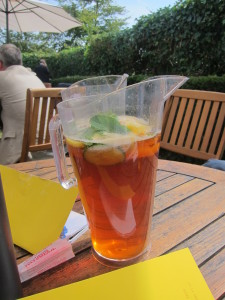 Our winnings may have started off humble (50p) but Jungle Cat and I teamed up for lady luck to help us and ended up winning a bit more by the end of the day. The money and the pimms must have gone to my head as I ended up going hat shopping for an official Goodwood fedora… not cheap but surely lasts a lifetime!
Once the races were over and all the pimms was drunk, we left to head home via The Most Beautiful Pub in England also known as The Three Horse Shoes in Elsted. Where we sat in the last of the sunshine with our gin and tonics and enjoyed the view.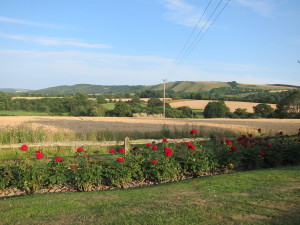 We ordered dinner to keep us going for the ride home and it was totally delicious. Starters of baked brie and duck breast. Mains of veal, prawn salad and more. Service is super friendly and the food good and great value. Inside the cottagey pub you can even sit by the cosy fireside.
Using the outhouse (yes, it is!) and piling back into the car, we headed back to the Big Smoke with Vince, and dessert (strawberry tart) and red wine in the dark. Getting home around midnight, I couldnt think of a more glorious way to spend a beautiful summer day. Our host Buster takes his guests to 3 days of Glorious each year – that is certainly some stamina! I am honoured to be part of the fun gang that attends each year and am already looking forward to the next visit (and secretly hoping someone will let me plan an event there in the meantime!).