INK restaurant in the up and coming Bethnal Green area, is going places. From the beginning when I booked, I was not sold… I found the restaurant as a very good Groupon deal, and the food looked too pretty to ignore, but I had my doubts. Especially when I had some booking problems, my pessimistic side was preparing me for a terrible experience with bad food and awful service. Thankfully, it was quite the opposite.
Firstly, arriving here is perhaps not what you expect. I took a taxi and arrived at a dead end near some residential looking buildings, but my maps told me I was in the right place. It isn't hard to find, just a little unexpected. But all the more wow for your mind when you get to dinner! The restaurant is as you would expect, minimalist with a Scandinavian style.
The thinking behind the cooking is masterminded by Lithuanian born chef Martyn Meid. His plan is to offer flavoursome, local raw ingredients to bring together the mind and the palate. And he does the job very very well. I am surprised we are not michelin laden here yet!
So I began with a wonderful Elderflower, mint tea and vodka infusion… and it was so good! Things began to improve immediately, even though my dietary requirement note hadn't reached the kitchen, substitutions were made with hardly a whisper – that is elegant service – thank you.
Our 5 course menu was delicious and great value: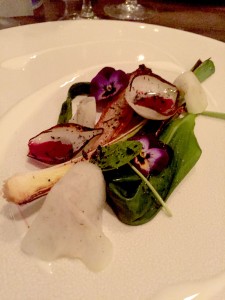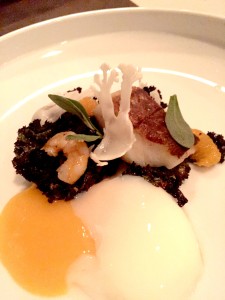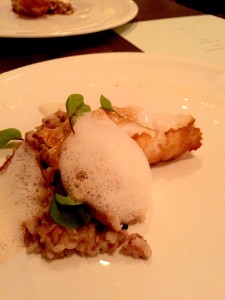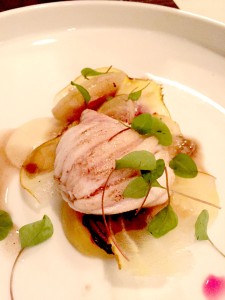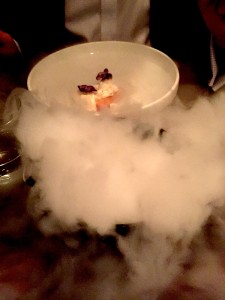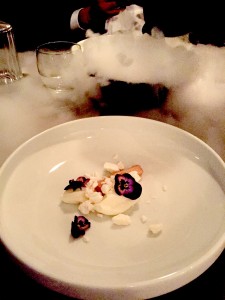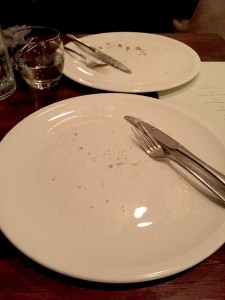 With the chef's extensively travelled tastebuds, there was a really fantastic mix of light flavours in each dish. And we were even delighted by the wine, a Romanian Sauvignon Blanc called Umbrele, which we wouldn't have normally gone for but really enjoyed.
With an initially quiet start in the restaurant, it got busier and had a nice vibe which was necessary, since you aren't in the most intriguing space – the focus is on the food and for good reason. However, I do wish you good luck deciphering the toilets after a few drinks!
A really lovely experience, the staff were very helpful and friendly, and utterly delicious food. A real feast for the palate without being heavy on the stomach or wallet. I hope that INK continues to flourish – I am looking forward to heading back sometime soon to try out the next seasonal menu choices!