I recently went to The Jugged Hare near Barbican. As you enter the grade II listed building (part of the famous old Whitbread Brewery which is now the 5 star Montcalm hotel), you are greeted by stuffed, mounted hare's heads. So very early on, I should say, if you do not like eating meat, or if you are in denial about where that meat on your plate comes from… this is possibly not for you!
Opening at 7am everyday, the pub has a nice atmosphere and serves yummy sounding tapas snacks. Retaining the feeling of the original brewery with its high ceilings, there is the touch of modern East London quirkiness that you would miss if it were not there. There are about 10 different beers available on tap and as I am not a beer drinker, about all I can tell you beyond this is that they serve 'Jugged Hare' which ze German loves having at our local, The Gun. Both pubs are part of the ETM group which has a number of really lovely gastropubs around London.
Honeymonster, Gustoso and I had booked for lunch and arriving promptly at midday on a Friday, we headed straight for the restaurant. It was still early and quiet, so we were amused to see three staff taking guests to be seated at just one table whilst we were left to admire the taxidermy. After handing our coats to the cloakroom (walk in closet) assistant, we were taken to our table by the kitchen.
The kitchen is all open so you can watch the chefs at work, smell the delicious aromas and get some clues on what in on 'special' for the day. Today it was roast suckling pig on the spit!
The restaurant is nice, still in keeping with the rustic brewery vibe, the ceilings are all done in butcher's tiles and are tunnel-shaped. There is comfy banquette seating around the sides (best for tables of two) and round tables, as well as seating on the bar by the chef station. Plenty of options!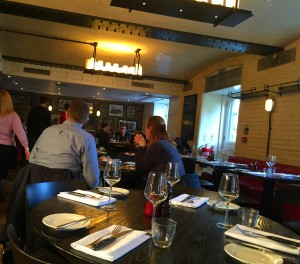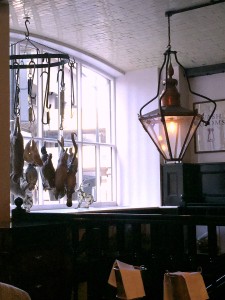 The menu is vast, and honestly, it all looks delicious, so it was really tough to decide. There is a set menu, feast menu… There are specials on boards, meats cooked on the spit, grill, rotisserie; shellfish, wildfish and seasonal game – be prepared for alot of game! I think I asked about 3 questions before I asked the waitress to help me decide between the Venison haunch, shoulder croquette, grilled squash, truffle jus; and the special of Venison Loin with veggies and cumberland sauce.
As it was a work-lunch, we only ordered mains but we were sent out some warm fresh bread and butter while we waited. When the food did arrive, it looked, smelled and tasted fantastic. A little on the expensive side for a lunch but definitely not 'over-priced' when you factor in the quality, delivery and taste of what we got.
We were too full to order desserts after all that and chips to share… but here's a sneak peek at the dessert menu!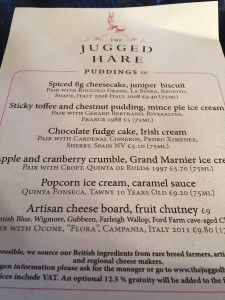 Ultimately this is a place where you might want to go for some nice nibbles and a pint at the bar, and only eat in the restaurant when the occasion warrants it. But with the good food, regular events and amazing private area downstairs (you will see it on the way to the loos, ladies look out for the fab Elemis toiletries and waterfall taps), this is a place you can find reasons to come back to again and again.