It's not my first time in Karlsruhe. As our flight arrives bright and early from Stansted to Baden Baden's teeny tiny airport, I am suffering. Yet again victim of the 'quick one' after work, on the last day before a long weekend… I can only equate the sense of freedom on these days with the last day of term in the golden days of school. Only I wasn't drinking back then!
Last night's parade around London started at the Sugar Loaf for a couple of vodka diet cokes (as you will learn, this is my beer replacement as unfortunately I can't stand the smell or taste of that amber nectar). Then an earnest quick one at Bread Street Kitchen, before we got a text that some friends were waiting in Canary Wharf for us to say hi. Well it's on the way home… it would be rude not to! A few (lost count) lychee martinis and good catch up at Roka later, I left the building, only to walk back into One Canada Square for a final hurrah with a very good old fashioned and a slightly annoying bar man!
And so, I packed at 1am (surprise clothing for the weekend then!) and slept 4 hours before my wonderful husband woke me up and hauled me into the cab for the airport. After sleeping a few hours on various modes of transit (taxi, plane, car) we arrived to visit ze Karlsruhe Germans (my brother in law, sister in law and adorable nephew). First things first: a slightly delayed but nevertheless fantastically carb-a-licious German breakfast.
Germans have a real sense of standard about their bread. I have never met a single German in the UK who didn't tell me about the subtle nuances that make the 'Deutsche bröt' a thing of wonder. And so I have come to sample much of this over the years and must agree, there is nothing quite like a fresh brötchen or bretzl (not called a pretzel here folks) from a German backerei. As standard breakfast, was a wondrous feast for the senses: different kinds of bread, a perfectly boiled egg (slice this onto a piece of bread roll with jam on it and top with a slice of cheese to be amazed), many variations of local cheeses and flügelsalad (turkey, pineapple, mayo and some other stuff that all tastes amazing), and so many different types of meats you would be astounded. The most amazing thing of all (and why I love my German family) is that only one item on the table was pork. Why is this amazing you ask? I don't eat pork and the Germans live on it! So to make this a banquet without any schweinefleish is pretty incredible. We ate beef, veal, chicken, turkey, you name it, it was a salami, a sausage, a ham, a bacon, a ham slice with cheese in it… it was all there and all edible for me! If this was a restaurant, they would get a Michelin star from me 🙂 . This victory was celebrated with a glass of cava with brunch.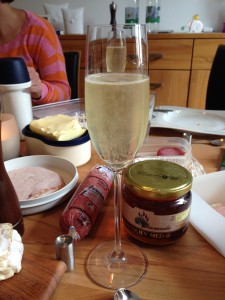 Later we explored a heap of lovely spots Karlsruhe. From walking around the small cobbled centre for a bit of shopping, stopping off at the cafes and biergarten at Ludwigsplatz, before taking a tour of the palace and gardens. It is a quiet and verdant place, with lots of opportunity to cycle, walk, drink beer and take in some café culture.
On Saturday night we were TrEated to a belated wedding gift dinner by ze Karlsruhe Germans at Hügel's. Top knotch Southern German fare and hospitality. We left feeling full and merry.
Sunday we visited some nearby towns, some of which you can cycle to as part of the Vögel brewery's tour where you cycle from pub to pub and get a free beer in each! My husband, his brother and nephew went to 3 breweries… the ladies took the car and meandered through the localities (due to my being ridiculously short and not feeling comfortable riding a bike so far – clearly this was no hindrance to a 3 year old – the shame!)
We wandered through Ettlingen, which reminded me of Bruges a little. Beautiful landscape with flowers and gardens, interspersed with canals and bridges. The retirement village (don't knock it til you've seen it!) was a really great space to walk through, with lots of outdoor art instalments .
Durlach was another stop where we have been previously, but only in winter (when you really need thick socks and snow boots so your toes don't fall off) and they hold a medieval Christmas market. The market was small but authentic with a hog roasting on a spit and archers and blacksmiths – and everyone in period costume. However, May was even better. A sleepy town to stroll around on a Sunday before an eis-café (basically a mocha coffee sundae) was perfect in the heatwave we encountered.
In the evening we walked to the local Italian Trattoria da Giovanni. I have to be honest, I was so exhausted, I didn't even go inside; choosing rather to sit outside at our lovely table surrounded by bushes and people watch. We took a wander around the ZKM centre of art – with its evil Spiderman looking goo structure outside that played music when it sensed you walk through it, very cool.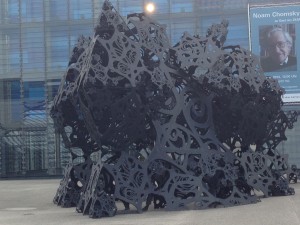 Monday was not a bank holiday for the Germans, so we took a day to relax as we never do. We walked around town and I re-read Harry Potter books, before preparing for our mega barbecue on our last night (lamb filets, steaks, marinated beef chunks, veal… and a delicious feta salad). Polished off with a proper German digestiv (well its Italian but the Germans do love it) Averna. It tastes… like medicine. But does the job – helps digest your food and feel a bit merry after a couple! Just stay away from Underberg – that, is gross (however healthy it claims to be)! And then… it was 5am and we were in the car again, headed for our grey and wet flight back to Blighty. Until the next time my delicious laugen-brot!