Recently I visited The Landmark hotel near Baker Street in London. It is a beautiful location in the heart of touristy hubbub land. 10 minutes walk down the road gets you to Madam Tussauds, which I thankfully only remember from my childhood (funny memory: when my sister asked me to ask the policeman the time and he was actually a waxwork. Hilarious!).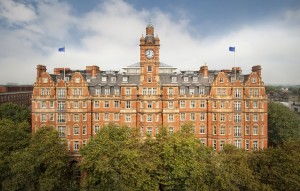 The last time I was at The Landmark, it was a very special day. Ze German and I were secretly eloping (in one of our 3 marriage ceremonies) and had gone for bubbly at the bar with our witnesses before heading over the road to one of London's most famous registry offices: Marylebone Town Hall. Anyway, enough reminiscing…
This time I was at The Landmark for a number of reasons. My sister and niece were undertaking the arduous task of driving up from the Home Counties and in order to meet in London we needed a place a) west of London near Harrods and b) with easy parking. Well The Landmark is easy to get to, and has valet parking. Not to mention that my niece was accepted recently into Cheltenham Ladies College and her celebratory wish was an ice cream cake from Baskin Robbins, which is also nearby (her being born an American may explain her wish – and if you haven't tried one yet, you really ought to!).
It was the first real spring day in London so far and it was glorious. A perfect excuse to get dressed up and go out. We met at the lovely Mirror Bar to start with some bubbles and a Tiki mocktail for the miss.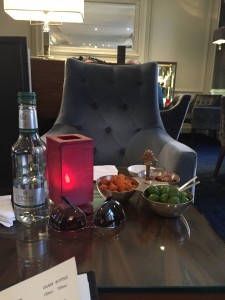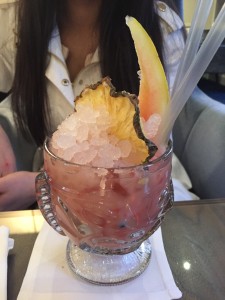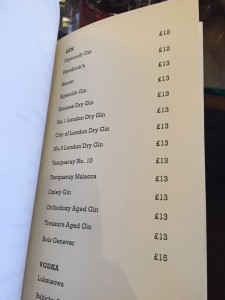 The cocktail menu here is something to be reckoned with, a visit back just for a sampling of these may be in order! The nibbles were gone in seconds and we realized maybe we were hungry. I had checked before going if we could get a slot for afternoon tea, but unfortunately it was fully booked. As my sister says – it's harder for them to turn you down once you are there (and they see three beautiful young women!) – so when we enquired about tea we were found a table – It may also have helped that it was now 5pm!
The atrium area of the hotel is one of my favourite spaces. With the pianist in the background, soft lighting and an outdoor space created indoors, it does really feel special.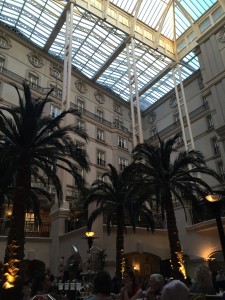 Although there were three of us, we weren't super hungry, and so from the Afternoon Tea menu, we asked to order tea for two – one chocolate and one regular. They were amenable, which actually I was surprised and happy about, although they did tell us they wouldn't be topping up our sandwiches as a policy in this case – not a problem for us, this was a perfect portion really. As you may know already – afternoon tea seems to be the only real American portion equivalent we have in London!
I went for the earl grey and my sister for the landmark blend with extra Darjeeling (too vanilla-sweet on its own) and my niece had a great looking hot chocolate. I was surprised they served cold milk with the tea as mine particularly, went cold very quickly. Once again they were happy to oblige when we asked for warm milk, but I felt it was something that should have been already considered.
The sandwiches were delicious. A bit more carefully considered than the usual I think, with each type crafted on different breads,  and interesting flavours including:
Organic egg mayonnaise and mustard cress on brown bread
Free range corn fed chicken with tarragon crème fraîche on walnut bread (my favourite)
Lapsang Souchong smoked salmon on onion bread
Classic cucumber on white bread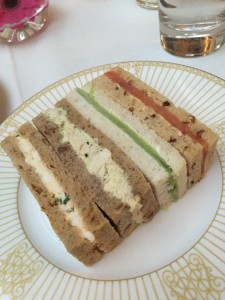 The scones were also delicious. I HATE raisins in my food more than anything. Thankfully they only gave us one raisin scone and my niece loves them! There was an apple scone too. The plain scones were possibly better than any I can remember, with a shiny silky top. There was even a chocolate chip and fruit peel scone that came with Nutella! The others were served with lovely cream, jam and lemon curd.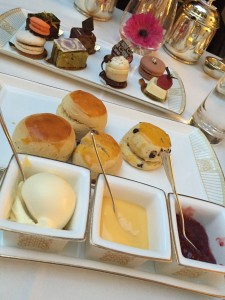 The petit fours were delicious and included interesting combinations:
White chocolate and pomegranate mousse
Flourless pistachio bakewell with homemade fig
Lemon jam Hazelnut and orange macaroon (my favourite)
Cappuccino Bavarois
Coconut and chocolate macaroon
Banana, pecan nut and milk chocolate cake
Cranberry, blood orange and dark chocolate mousse
Pistachio and chocolate Opera gâteau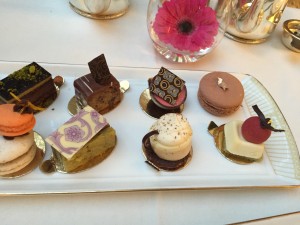 The whole thing for 2 came to £82 and unusually the bill came without service charge so you can pay what you want to which is refreshing (yes ok, I know there are expectations!). We spent a leisurely couple of hours enjoying ourselves and the tea (although you may want to ask the service to be slower for you) before we took our leave back to reality again (and to pick up ice cream cake!).
This is my second tea experience at the Landmark and I have to say I actually prefer it to the "tea at the Ritz". Not to be pooh poohed – I think the Ritz has its place and is a fabulous experience. However I think it has perhaps become a little factory-made, whereas it is more of an intimate, understated and luxurious experience at the Landmark. There are plenty of really great afternoon teas of all kinds around London (list to come soon) but this one is highly recommended as a TrEat for something to make you feel a little special!