Ze German and I have had a hectic travel schedule this year. During one of our more busy weeks, he decided to pick a spot for an early dinner after work and before the airport, so we could say a civilised goodbye before he flew off to the next city. Looking for a place to meet and eat between the city and Heathrow, he ended up choosing a Mayfair classic – Langan's.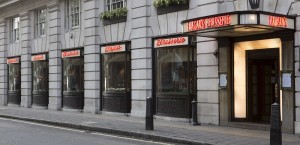 I had never been here before, and as a movie buff, ze German was excited to have picked a place that Michael Caine helped launch. The restaurant has been around as a Mayfair stalwart since the 70's I believe, and has an interesting history.
As you enter, it is a little bit of a lost world you find. At early evening, it was only half full but still buzzy. The matre d', all kitted out, is very keen to make sure you are taken care of. The service was perfectly attentive and old-school, just the right side of overbearing. The art all around you and photos of star patrons are really good fun. The menu is very hearty – a mixture of traditional English dishes like Fish Pie, and French brasserie food like bourginon. They do breakfast, lunch and dinner, with daily specials. There is even a private event space which could be fun for a winter party!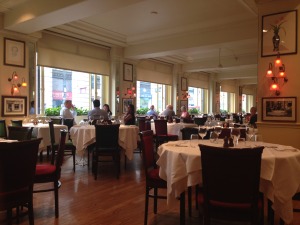 We didn't really have enough time to get a full feel for this place as we only ordered mains, but the food was not bad, although expensive. Our fish and chips, and swordfish were fine but possibly not quite worthy of the menu price.
I can't say I know how this place used to be once, but I can certainly imagine it. I think I like it. There is a certain modest glamour about it. It is not pretentious but you know you are well taken care of. It is still clearly a draw for celebs, probably due to its good location and low key approach. I even saw a couple who I am sure were some c-list celebs from TOWIE or something (if only I had one of my friends with me to tell me who it was, I am SO bad with that!). So, although I can't say I was ever compelled to go here previously, now I think I would drop in if I was looking for a private-feeling spot in the area.