I am sure you have all been avidly watching Masterchef over the last few years and salivating over the amazing looking dishes, rooting for the great talent, and wondering when you might be able to sample some of these goodies too! Well this year for the very first time, Masterchef decided to open a pop-up restaurant in London. What a rush of excitement I felt as I got my American Express email telling me I should book now! Looking at all the different chefs who were going to be cooking over the 5 week residency of the pop-up restaurant, it was difficult to decide which to go for. In the end  I took the first available slot I could make, which was in week 2.
As I arrived after work at the Blue Fin Building in Southwark, I wasn't quite sure where I was going. I had heard of this place and had an idea where it was (near the Tate Modern) but I hadn't been there. It is hidden just enough so you may not know it is there exactly, but once you arrive, you wonder why you never knew it was there! Surrounded on the ground floor level by some cool shops and bars, this is a good spot to meet if in the area. And the venue itself is definitely a potential spot for some great events. You couldn't miss that it was a Masterchef residency – as you approached the building entrance, the faces of all the chefs that would be cooking for us over the coming weeks were clearly on display. I was so excited to go and meet Bella and check this out!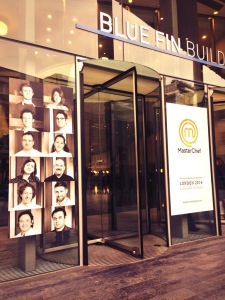 After checking in at the front desk, I went up in the lift and walked out on the 12th floor and on to a HUGE terrace with great views. It was such a lovely surprise, as I hadnt known this spot existed! As Bella and I caught up over a rather large (read: full to the top!) glass of white wine, we felt very lucky to be in such a fabulous spot with great views.
Inside, the restaurant was separated into 2 areas which was served by all 3 chefs of the week. It was hectic! Service wasn't quite on point but made up for it vastly in its enthusiasm and vigour. For a 5 week pop-up there was a lot of fun detail, like the personalised quotes by the chefs and the herb garden. Such care to detail, the lighting was done by Russell Sage Studio (who did Petrus for Gordon Ramsay, The Savoy Grill and Jason Atherton's Social Eating House, among many other amazing venues).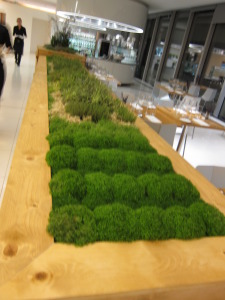 The food was VERY good. My only gripe, I will get out of the way early and then continue to sing the praises… It was a set menu without any real alternatives. I don't eat pork and unfortunately, this week's menu was pork-heavy, so when we addressed this, I was given veggie alternatives to everything, instead of perhaps having a couple of things done without pork on the plate. IN SPITE OF THIS – the food was phenomenal. And actually, Bella and I agreed that the veggie options were maybe even more special than the meat dishes!
Our table with choice of breads – the potato rosemary was delicious!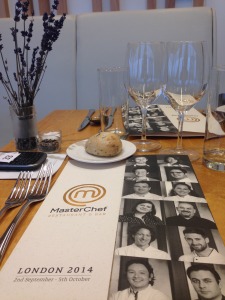 Our favourite – veggie substitution of a mushroom and radish salad – out of this world!
And a good job too as I was looking forward to the rabbit starter (which didnt say pork but it was in the sauce!)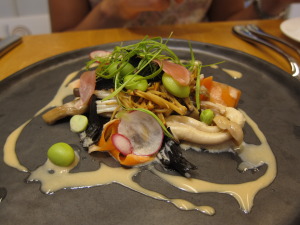 Salmon with 'micro herbs'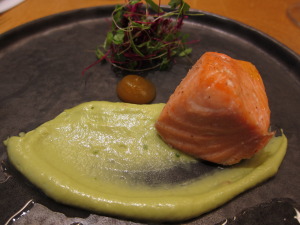 Atlantic char with scallops and mussels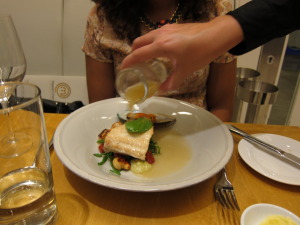 Another veggie sub (instead of pork belly) aubergine terrine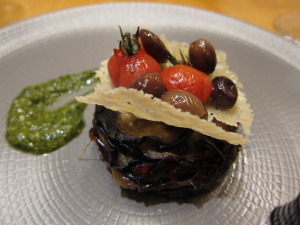 Mango mousse with passion fruit and candied black olive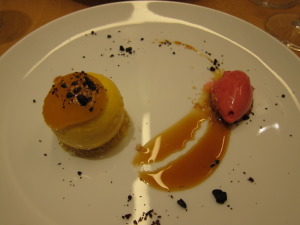 S'more mille feulle and campfire sorbet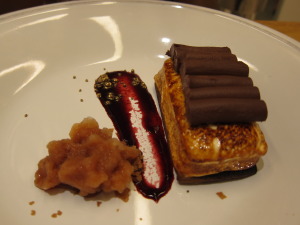 One of the things I had been super excited about was the Italian female wonder that is chef Sara Danesin Medio. During the TV show, her chocolate ravioli was something of a wonder for me, and I was super excited that we were getting to close! Bella was possibly even more excited since her mum LOVES Sara and as fellow Italians, they had avidly followed her on the show! After dinner, we walked over to the 'kitchen window' to see the masters at work, and were rewarded by a visit and chat with the lady herself! What a fabulous woman – full of energy, super friendly and doing so many things (masterchef, her own restaurant and cooking school in York…) An honour to meet Sara and I feel like we might just have to do a weekend in York to cook!