Miami – the place where the sun shines forever, everyone looks hot and neon pink is king.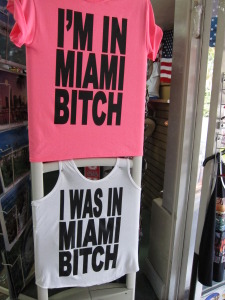 Having been lucky enough to spend time in Miami twice now, I can say that it's a really cool place. I am sure you already knew that, but I probably wasn't so convinced by international DJs and Hollywood, until I actually went there myself. And I am already looking forward to going back again!
The first time I had a one-night stop over on the way to Cancun for a conference. So my sister and I packed as much as we could into our itinerary for one night and half a day. The second time I was there, I was volunteering at a conference, which is more hard work than you are thinking! That whole experience probably warrants its own blog post… so I won't go on here, except to say, it was all awesome!
So, after my 2 trips… here are my 'best bits' for anyone looking to head to Miami:
1. The Delano – Part of the Morgans Hotel Group (St Martin's Lane in London), this is my favourite. It is in South Beach, on the beach. A gorgeous place for sleeping, eating, drinking or playing. The Rose Bar is tiny but lovely. Grab a drink and check out the Philippe Starck interior (love the glass baby grand piano), pool table, and of course the gorgeous people. Walk out onto the terrace, past the diners, and onto the green; where oversized furniture gives some quirky glamour before you reach the cabanas and pool bar. It is a great spot for an outside event. Alternatively head downstairs for some dancing at FDR.
2. Fontaine Bleau – This is a little bit north of the main strip, set on Miami Beach it is just a quick cab ride. This is an institution of a hotel, from the Sinatra days. Thankfully it's been well maintained and has a host of great restaurants and entertainment to choose from. My favourite was Scarpetta, an amazing Italian restaurant (original in NYC), and the Bleau bar. There is also a great club called LIV to dance off the calories!
3. The Mondrian – Also part of the Morgans Group – this is possibly even more trendy than the Delano. A gorgeous place for gorgeous people. Friends have stayed here and I hosted an event here, it has a great skyline and is glam.
4. W South Beach – Like all W's, this is a sexy property. I visited a friend staying here, and the garden terrace and bar were enough to convince me this was a hot spot!
5. The Betsy – On Ocean Drive, this is a lovely small hotel with a great steak and seafood restaurant BLT – try the popovers (like giant cheesey Yorkshire puddings)! It also has a great rooftop bar the Deck, perfect to watch the sun go down with a mojito.
6. Juvia – A mixture of Japanese, Peruvian and French, the food is to die for! Add in the cool views at sunset and this is a winner.
7. Ola! – Latin fusion cuisine at its best, at the Sanctuary Hotel.
8. Joe's Stone Crab – the original is here in Miami – great seafood (go for scallops and crab). Although I still love the Chicago outpost best, with Vegas a close second (go for the bone-in filet mignon if you are there), this is great family style fayre – tie on a bib and get eatin'!
9. The Clevelander – This hotel has a sports bar and roof top dance floor… what more do you need for a night out for the boys and girls?
10. Eden Roc – Next door to the Fontaine Bleau, a modern yet art deco hotel that has just been updated. We hosted a conference here but it makes for a fun spot to rest if you don't want to party non stop! My absolute favourite breakfast in Miami was here. And get this, the buffet was amazing so you don't even want to order anything else – this egg muffin with cuban beef was amazeballs (yes, I just said that). The spa here is great (where Kim Kardashian tried to steal the unicorn statue from!), my ultimate relaxation massage was to die for!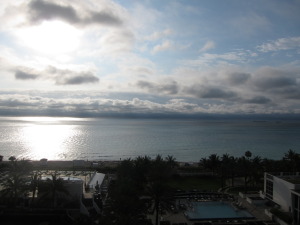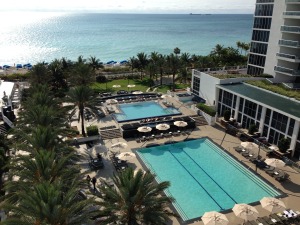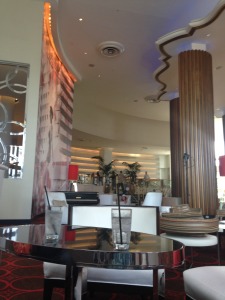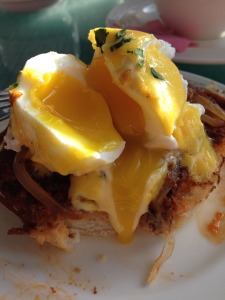 11. Lincoln Road  – great for shopping and in the evening this pedestrian zone is covered with outdoor seating and has a great vibe.
12. Little Havana – You cannot go wrong with most of the places here, and people are super friendly.
13. Brickell – an area of town also has good bars and restaurants.
Tips
Take lots of reliable hair product! My hair was in frizz-heaven just like Monica in Barbados… take something with you that you KNOW will keep your mane tamed. Second time around I used a bit more Frizz Ease than normal and it kept me in check!
Find blockbuster accommodation for less – If you don't want to break the bank staying at the glamorous big hotels, you can find lots of boutique hotels around the Miami/ South Beach areas, or possibly some good deals at the downtown area across the bridge at Key Biscayne.
Do try and get out further than the iconic beach area and check out some cool local areas like Coral Gables for more neighbourhood bars and restaurants, as well as great street art. Coconut Grove also has some amazing places and of course – get to the Keys! The first one is $100 in a cab if you can't be bothered to drive!
I was recommended a couple of places that I would have loved to go to – maybe on my next trip – including Bazaar
Most of all, remember to pack a sense of excitement and plan to go back there to make the most of all Miami has to offer!