July 2014: London town is sizzling and so is Spice Market's tasting menu! Having fallen in love with the salmon sashimi on warm crunchy rice with chipotle emulsion at Taste London last month, 816 and I had to come and test out the rest of the menu to see if it could all possibly be equally as delicious as that tantalising morsel.
Since I am on a booze detox this month (sad-face), I asked the barman to make me a virgin cocktail as I waited for 816 downstairs and admired the spicy layout of the 24 metre pantry backdrop, which holds all the ingredients the chefs use. The resulting mix of cherry yuzu and passion fruit and some other magic ingredients made even for a gorgeous drink – I look forward to trying one with alcohol next time!
With 816's arrival, we finally made our way up to our table amongst our endless catching up. The staff were kind enough to show up the private dining space 'The Globe' on the first floor which accommodates 40 people for dinner and 60 for a reception with drinks and canapés. The room feels secluded, dark and cosy. Probably perfect for something a little moody like a fun cocktail party or a special birthday dinner – event planners take note!
Spice Market is inspired by the street food that French chef Jean-Georges Vongerichten enjoyed whilst travelling in Asia. The menu brings together flavours and dishes from across the South-Eastern region, in a modern fresh and delicious way. Alot of the dishes are inspired by streetfood and all served family style – so be prepared to fight for the last piece!
And so the tasting journey begins…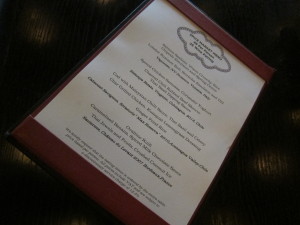 Beautiful poppadoms with a spicy tamarind chutney to stop us eating our arms before the food starts literally rolling in… as we will be rolling out after!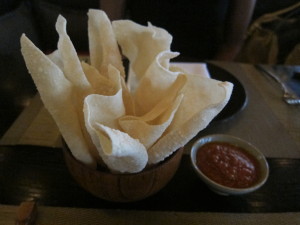 Lobster Summer Roll, Sriracha Emulsion and Dill. Not as hot as you think and plenty of juicy lobster.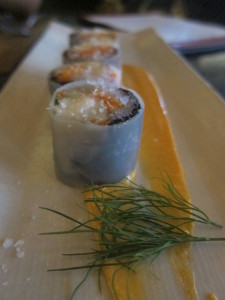 Salmon Sashimi, Warm Crunchy Rice, Chipotle Emulsion and Spring Onion. The reason we came!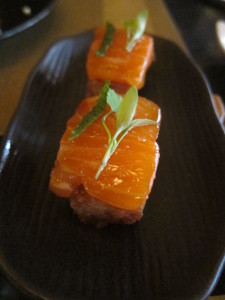 This tuna delight was not on the menu, but was so good! It was delivered ice cold and made up of shaved tuna, chilli tapioca and asian pear and lime. A spicy cold broth, reminiscent of a silky laksa, all the taste of Thailand for us!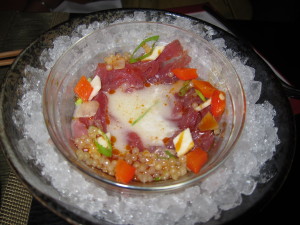 Spiced Chicken Samosas, Coriander Yoghurt.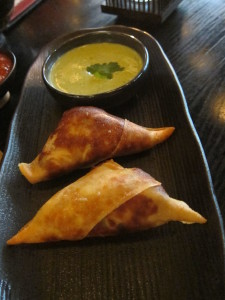 Charred Chilli Rubbed Beef Skewer, Thai Basil Dipping Sauce. Melt in your mouth beef!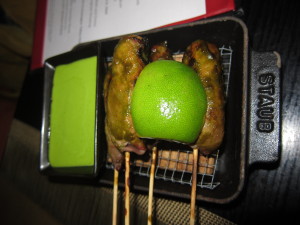 Char Grilled Chicken, Kumquat Lemongrass Dressing. The chicken was smoky but a tad dry, but with a zing!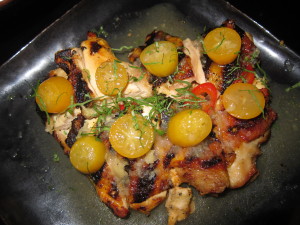 Ginger Fried Rice. Totally delicious! A bit like Nasi Goreng without the seafood, with a nutty buttery taste like a paratha! The egg is covered with garlic and ginger, and it is all surrounded with soy sauce, so it has to be all mixed together for a perfect mouthful!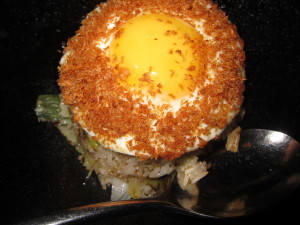 Cod with Malaysian Chilli Sauce, Thai Basil and Celery. Not so spicy but flavourful. Although other dishes may overshadow this – alot to contend with!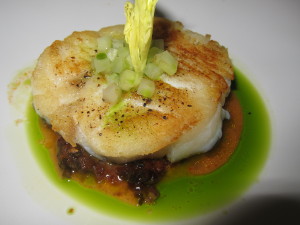 Ovaltine Kulfi: Caramelised Banana, Spiced Milk Chocolate Sauce. The chocolate was divine! Covered with sugar-coated aniseed – normally found as an Indian digestive, this was a cute finish! The popcorn was fun and the sauce perfect.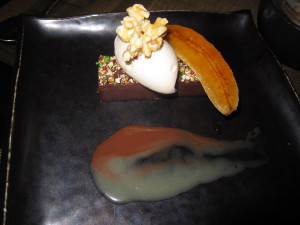 Thai Jewels and Fruits, Crushed Coconut Ice. The crow jewel of the menu – freezing cold with luscious coconut creaminess and pieces of fresh soft coconut – a bit like Ras Malai. Smells like perfume!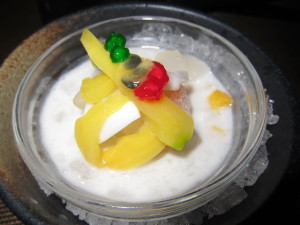 After dinner we were lucky enough to be escorted by the lovely manager Rezi to meet the chef, to thank him for the amazing food we had somehow managed to eat! Apparently they are working on introducing more cold courses (like the ones we LOVED) to the summer menu – so keep your eyes peeled or ask! Rezi also told us that the local regulars include Alesha Dixon and Emma Bunton, with international superstars as Michael Douglas dropping by when in town too. Its not hard to see why!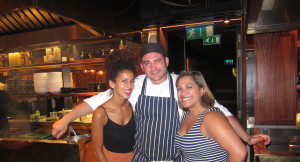 Thank you W hotel for adding a great spot to the west end scene – now to try Doha or New York's own Spice Markets, the next time we are there!