As the winter chill set in this January, after a relatively mild and pleasant Christmas, we began to feel the familiar itch of needing to leave the country for a while. Winter sun is always a welcome respite, and everyone will have their own idea of what is best, whether skiing in the cold but sunny mountains, or finding a spot with palm trees and a pool. For me it is most definitely the latter!
This year, it was a bit more of a challenge to find the perfect location, as although flexible on dates and destination, I was 5 months pregnant with our first baby, so as well as warm and a good deal, I was also looking for somewhere easy to get to (short flight time) and civilised enough that I felt comfortable I'd be taken care of well enough if any emergency should arise. The change to sensible parent has begun it seems!
My first choice was to head to Dubai, with its plethora of great hotels, plenty of activity and clean environs with English speakers was attractive. However it seems with recent political situations the flight path and time has increased to 7 hours… I could be in New York by then! So there seemed there was only one European alternative – the Canary Islands.
Booking
Ze German had been before but I had not and didn't have a clue what I was getting myself into. With limited time to research – we booked 2 weeks before arriving, and a busy work period beforehand, I wasn't sure of what to expect when I arrived in Tenerife.
Booking was easy, we found lots of fantastic deals online, Expedia was especially good. We almost considered booking into the Ritz Carlton for about £2k for two inc flights as it was a baby-moon, so surely it should reflect our honeymoon? However, once again sense prevailed as we thought about the car and baby stuff we were about to buy and instead we went for a great deal at £500 per person via Opodo (as Expedia sold out of our flights) for B&B including flights at the five star, adult-only Hacienda del Conde, part of the Melia chain.
Travelling & Car Hire
Our 6.30am flight from Stansted on Ryan Air (my least favourite airline but we did get extra seats to spread out onto) arrived at Tenerife airport by midday. We grabbed our bags from the belt, picked up our car from Goldcar (booked via easycar) at a ridiculously cheap EUR 50 for the week, and head off to find our hotel. One thing to note on the car hire, I don't know why it seems either that industry is bent on ripping customers off, or it is still set in the middle ages. A pre-booked car seems to take forever to collect wherever you are – UK, Europe, USA… and be prepared to be annoyed about the extra charges. Here, it was the fact that we'd be paying for returning the car full or empty, as you get charged for the honour of it being full when you pick it up basically. And you pre pay for it to be re-fuelled later if you bring it back empty. IF you bring it back full, you get 75% of your deposit back on the fuel as the rest apparently is tax… so long story short, we brought it back empty to not waste time trying to get a refund!
The Hotel
On arriving at our hotel on the Northern coast at the end of a sleepy village, we were pleasantly surprised. The hotel seems to have been recently taken over from another chain (Vincci hotels) and is now adult only, so ignore the signs for nursery or children's pool! The views are lovely and everything feels relaxing and new. The staff are super friendly and will help wherever they can, even sourcing me a UK adapter when I forgot mine! You never have the feeling it is busy here. There was a mix of clientèle, the majority probably over 50, with a peppering of 30-somethings on a couples holiday (and 2 pregnant ladies, I wasn't the only one!).
Our room was fantastic, a really good size and with everything we needed. The bathroom had a lovely large bath, we had a separate dressing room and large bedroom with lounge area before a very private balcony. One of my favourite things was the turn-down service and the cute and yummy chocolate they left behind – it's often the small things in life!
There were two pools, and we probably spent most of our time at the downstairs one, which has a waterfall effect from the upper level pool which makes it lovelier. And bonus that you have wifi pretty much everywhere!
One gripe I have is the spa. I don't think it matches the rest of the five star services. I tried to contact the spa for a week before going so that I could confirm and book a pregnancy massage, but I never got through to them or got the spa menu sent to me (it is impossible to find online). When I got there, they didn't have the right oils to use for me so said they could do a foot massage only, so I booked it and at the same time booked for ze German to use the spa's 'hydro-facilities' at 25 euros for 90 minutes. My massage was VERY light (hardly noticed it was happening), and my mani pedi paint was not great (read: I redid it myself). The masseuse painted my nails in the same darkened room where I had my massage, and asked me what I thought whilst she had my eyes covered… I think you get the idea! Ze German's report of the spa facilities were about the same. So suffice to say, save the money and just stick to the pool! Such a shame in an adult resort, perhaps they will enhance the service over time.
Breakfast was pretty good. With an omelette station, fry up available and continental with yummy cheeses, meats, salmon and fruit. Pretty comprehensive, I don't think you'd miss anything, although there wasn't that fun element of a daily surprise addition to look forward to, as with some resorts.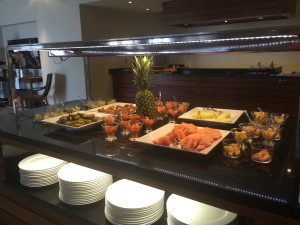 There are two restaurants on site, one in the breakfast buffet, which switches to a dinner buffet at a not inexpensive EUR 49 per person. We popped in one evening to see what this was like, and were not overwhelmed so didn't stay. The second restaurant is called the Gourmet. With its small size (maybe 30 covers) and simple décor it gives the impression of looking for a Michelin feel, however the food wasn't quite up to the level I think they'd wanted. Not bad, but not a 'don't miss' option.
We opted to go out locally most evenings and see what tapas we could find, which was always delicious and a fraction of the price. Every day was really relaxed, with a bit of a swim and chill, before getting antsy later and heading out for a drive and exploration for food and adventure. A perfect holiday.
And if you like golfing, there is a stunning course right beside the hotel on the seashore… worth a visit if you are interested.
The Trip
Most people visiting Tenerife tend to have heard about the Los Cristianos and Playa de Americas areas, which were notorious in their heyday as being 'those' kindof English holiday towns that places like Malaga, Magaluf and Ibiza can fall into the category of. We didn't visit either of those on this trip, although I have read that the areas are much improved. The place to visit in this Southwestern area of the island is Costa Adeje, which is new and a bit more upscale by all accounts. We instead were staying on a quieter corner of the island in the northwest, a tiny town called Buenavista del Norte. Why here? Well, we wanted somewhere quiet and rural and relaxing rather than hustle and bustle of a big town. There are some places you can achieve both – the island is full of many great resorts. However this was part of the luck of the draw for our last minute booking and we are pretty flexible so it worked out well. If you decide to do more rural locations like us, a car is a definite asset. The main attractions on the island are reachable by tour buses but having your own car is always nicer – plus, we love a little road trip!
Driving from the airport towards the north, the scenery couldn't be ignored. Rugged hilly mountains inland, and the beautiful sea on the coast, windows open in 25 degrees with the sun shining and almond trees in bloom… perfect. As we reached the small town of Santiego del Teide we stopped at a busy looking spot on the main road for some lunch. It didn't look like much but the food was delicious! Here we were introduced to the Canary Islands' speciality sauces that come with bread or potatoes at pretty much every meal – mojo. Green and red, they are different in every place we ate, but all equally delicious.
There was a tour bus of Germans having lunch here at the same time, so we got chatting and an older couple told us we had to visit Masca – luckily we were driving through there next so we were excited to see what was in store. Masca is fascinating. The winding roads (really really windy in parts) that get you there are beautiful. The town itself is a pretty little hamlet and there are some lovely places to stop and eat/ drink/ buy souvenirs. Any money spent here goes to the preservation of the town, which has a very special history. In short, these Canarian locals hid out in a ravine, initially living in caves to keep themselves hidden from the island's invaders. For 200 years they survived cut off from the world, and only in the 1970s when the main roads were put in, did they re-connect with the rest of the island. Insane! Worth a visit for the driving experience and magnificent views alone, also a great hike here. This was a highlight of our trip and because of our hotel's location and ze German's love of windy roads, we drove there here a few times.
Places to see/ Things to do
Masca – The windy roads take a couple of hours to get you to the hidden historic village of Masca. But once you are there it is worth it, just walking around the village will make you earn your lunch, covering the steep slopes. There are lovely views, a European Machu Picchu. Places to stop for a break: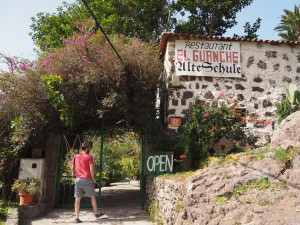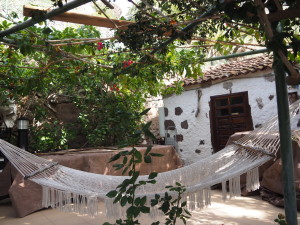 Casa Riquelme (charcuterie and bread with drinks only. Lovely terrace)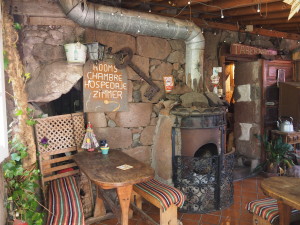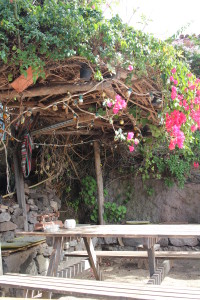 Pimentera (hidden off the main road, looks lovely, we didn't get a chance to visit)
You can also take the 4-6 hour Barranco de Masca hike down the ravine to the sea, either on your own as it is sign posted, or with a guide. But be ready for some real scrambling in parts I am told! Clearly I didn't undertake this in my condition, but one to come back for! Masca isn't very big and so can get pretty busy with tour buses coming in all afternoon, try and head over earlier in the day. Look out for cactus lemonade – you won't find it everywhere!
Near Masca – on the windy roads around it, there are other little villages to try which are nice for a pit stop. I recommend:
Garachico – A beautiful little town on the north coast. Really cool little rock pools you can walk along, go swimming or just watch the waves splashing. Look out for the fish!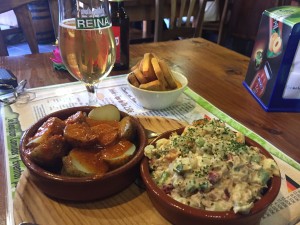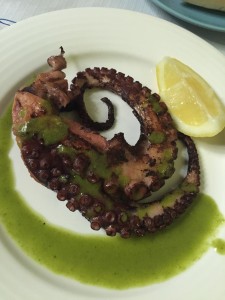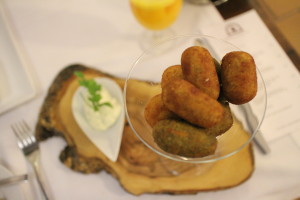 El Teide – The volcano! This is the big attraction of the island. The drive to get to the volcano is about two hours (you can get buses from the big resorts). The scenery is reminiscent of Yosemite and Death Valley in parts, very atmospheric. It is amazing that one small island can have so much diversity in landscape and adventure to offer. Read up in advance, as there are some things you can and can't do like going to the rim of the crater requires a permit apparently, and if you are pregnant you cant take the cable car to the top… but worth a visit to the world's 3rd highest volcano! Oh – and take really warm stuff to go up there…
Los Roques – in the same national park as the volcano, these rocks are like something out of Star Trek. You'll find them just before you get to the cable car for the volcano, worth a stop and photo. If you are hungry after this little trip, head to Vilaflor on the way out of the national park and walk around the village and grab a bite. We ate at Casa Pana which had a lovely garden as well as cute traditional indoor spaces. The food was delicious, here we had the 'Canarian black potatoes and goat stew' – so much better than you might imagine!!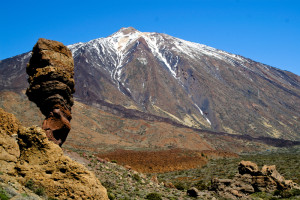 La Caleta beach – Near Costa Adeje, there is a lovely stretch of black sand which is very relaxed and utterly beautiful. Stop by the C'queleche bar for a sunset drink and listen to the live music.
Playa de las Terasitas beach – a stunning white sand beach in a quieter northeastern part of the island. A bit of a cheat as the sand is imported from the Sahara! But… it feels amazing! Worth visiting. Pop across the road to San Andres for local eats – La Pandorga was our fave with fantastic fish and lovely hosts.
Puerto del la Cruz – if you are in the North, this is one of the more busy areas to check out and shop in. A great place to eat here is Casa Mediterranea, fantastic food at great value and lovely service, tucked away in a little side street.
Punte de Teno – A small outcrop on the most North-westerly point of the island. A cute place for a quiet stop but not a lot here except a lighthouse (great volcanic rocks) and a very rocky bit of sea!
Santiago del Teide – if you are driving through here and want to have a pit stop, there are a couple of good food spots. The town is tiny itself so not a lot to see. We tried:
La Gomera – is a lovely more green island If you have the time (we didn't this time) take a day trip by boat and indulge in some whale and dolphin watching on the way.
Notes on local eating
Sunday evenings in the 'local' areas it is hard to find much open – when we were around Masca we had to drive further out (20-30 min) but did find a few places. In the more built up areas you will have no problem.
Again not in the resort areas but elsewhere it seems pizza is a weekend item… we wanted to try Rugantino in Garachico as the pizzas were highly acclaimed, but it was only open at the weekend and we flew back Saturday!
Do not be afraid of ordering the very local dishes, you will not be disappointed! I often get tired of tapas, but the Canaries have their own style of cooking which kept us happy all week. You'll eat cheaply and be very satisfied if you just head to a village and pop into a local place.
Eat all the seafood you can, the fish, octopus and prawns we ate everywhere were fresh, juicy and delicious.
You'll see roast chicken often on the menu which may sound boring – it is not. A lot of the local places use traditional asadors (grills) which produce juicy, smoky chicken that is very more-ish!
And if you still want something more wow, there are so many choices on the island… get some ideas here.
What to avoid
Los Gigantes! We thought it might be nice to visit… it is not. It is a small Benidorm pocket of hell. Avoid at all costs!