In January this year, we set off for our Thailand honeymoon. Why Thailand? Well, I really wanted to go to the Indian Ocean or the Caribbean, somewhere typical for a honeymoon where we could relax and tick the white beaches off the to do list. But ze German was not convinced, as he is not a fan of beach holidays (he becomes a lobster). So I felt it only fair that he has a say as I was sharing the honeymoon with him! 😉
We looked into lots of places where we could do multi-centre trips, from Havana to Varadero or Cape Town and Safaris. Ultimately we agreed that we would love to have a holiday where neither of us have been and where we can be guilt-free in our spending, to really feel like we are having a luxurious holiday. And there you have it – Thailand was decided!
We booked our trip with Trailfinders for a number of reasons. Firstly, it was recommended by other recently married couples who had had the same wedding gift list requirement (a honeymoon fund!) and secondly, they really help you to get together the itinerary of your choice with all its complicated stopovers and checking different options, so you know you really are getting the best option you possibly can. And even better, with our representative (we saw the same person in the Canary Wharf branch each time), she knew Thailand inside out and so was able to help us plan out exactly what we wanted.
In prep for the trip… well I got a bit over-excited! So you can download the doc here that I put together with all the ideas I managed to whittle down for our trip: Thailand Itinerary. There are just too many things to do, and after having had such an amazing time, I think that Thailand is a place you have to keep going back to, to be able to fully appreciate all on offer.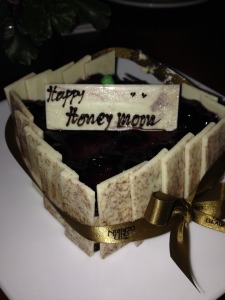 Arriving in BKK on Thai Airways was great. The seats and leg-room in economy are huge! After a great journey of almost 12 hours, we landed in a hot and dusty city. We checked in at the beautiful Anantara Riverside, which we chose for its quiet location and central access to the city via free shuttle boat.
Once we were settled, we headed straight to China Town to see what was going on for the Chinese New Year Celebrations. Unfortunately, we hadn't counted on the election weekend protests being part of the show! There wasn't much else to see apart from peaceful political protests, so we walked slowly, ate quickly and headed back for a nap!
Our first evening we decided to take it easy as the jetlag and the heat of the city made it hard to concentrate on much. So we made the most of the hotel facilities by taking a dip in the pool, a wonderful massage in the spa and dinner with a show at the riverside restaurant. It was a beautiful setting as the sun went down, the torches were lit with fire for the dance show, and we had plenty of choice in the elegant buffet for dinner (indian, thai, italian, chinese… almost anything you wanted was there).
After dinner, we took the shuttle boat to the Asiatique riverfront. This is a cute pier with a huge market/ mall behind it. From 5pm til midnight, you can go shopping, grab a bite, be entertained or get a massage. It is more expensive than the usual markets here, although you may find a few things that are better quality. But do look out so you don't spend double on the same elephant print trousers here as in the night market! After a quick wander, we decided quickly to have a massage – £5 for an hour! Great value and a good massage. These ladies are experts and the great thing is you can pretty much get a good and cheap massage anywhere, don't be afraid to try one out when the urge takes you.
Day 2 in BKK, after an amazing breakfast at the Anantara, we set off to explore. First stop, we took a boat from the Taksin pier for a Khlong Tour. This is a long boat tour through the backwater canals off the main Chao Praya river where you can see how some of the locals live; it is beautiful and emotional in some ways, to see how people live in the little shanties on the water. But there is a magical sense of enjoyment that you see – kids jumping in for a swim, painted nurseries, temples and shrines all around, as well as the 'shop on a boat'. Definitely worth doing this trip.
After the tour we went to the Grand Palace to see what the main sight of Bangkok had to offer. It was huge and beautiful. The palace has so many areas to see and wander through. Just don't forget to wear clothing that covers you completely as well as being loose (my leggings and long top didn't pass the test so I had to rent a sarong with a refundable deposit!).
That evening we ended up looking for a nice bar in the hotel, only to be told that during 'election weekend' there is no drinking… Eek! So we went looking for a bit of fun and ended up at the back-packer area of Khao San which was fun and lively with street food and live music. There were friendly people ready to chat wherever you went, and we event found that you could buy black market beer during the prohibition weekend, as long as you had it in a plastic bucket! And of course there were lots of guys trying to sell you fried insects and scorpions… Ze German was so close but didn't end up doing it and I totally wimped out! Maybe next time… definitely a fun spot.
On our last day in Bangkok we walked around the city a bit and enjoyed our pool a lot, and in the evening dolled up for our romantic night on the town… We started with dinner at the Banyan Tree Hotel's Vertigo and Moon Bar. A truly beautiful spot to watch the sun go down and enjoy the views of a lively city. It is a little windy 61 floors above the city's chaos, but it is worth it. Service is impeccable and the food is good – although of course after days of being spoilt by local cuisine, a restaurant boasting 'best Western cuisine' is going to let you down a little, so be prepared. It is definitely a special occasion place!
After this we wanted to check out the red light district that we had heard so much about! Here we had a bit of a boo-boo… instead of remembering that Pat Pong is where the famous night market is, we had another street in our minds from all the reading and instead asked the cab driver to head to Soi Cowboy. He tried to tell us it wasnt for 'the lady' but we assured him we knew it was the red light district and we wanted to go there… well I think he knew what he was talking about! I was possibly the only woman not for sale on that street… I don't get uncomfortable very often and this was the first time, after a walk down the street I asked if we could immediately leave! We grabbed a cab and went to Pat Pong and had a walk along the night market and saw the go-go dancers (giving the ping pong shows a miss) and eventually we ended up at the Lebua Hotel's Sky Bar for a last drink.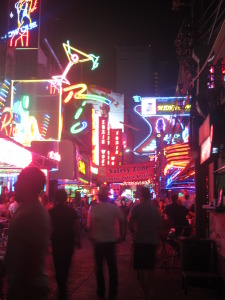 Sirocco is on the 63rd floor of the Lebua state tower building, and is the world's highest open air bar! It has to be my favourite personally. It is of course where the opening scene of the Hangover II is filmed, so they have a 'Hangovertini' to celebrate that. It is such an iconic place, I recommend a few drinks here to anyone passing through the city.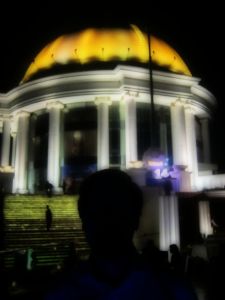 After a wild and hot few days in Bangkok, we headed up Thailand's rose of the North. Our hotel – the Dusit Princess – was quite basic, as we knew that we weren't going to spend so much time here, with all our day trips planned. The staff were super friendly and we were made to feel right at home.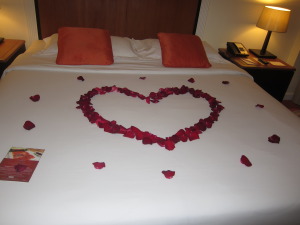 The city itself is small, with friendly people and fresh air (a delight after BKK). We spent a lot of time wandering around checking out the local wats and bazaars when we weren't off with our excellent guide on a tour.
We took 2 tours:
1. Doi Inthanon National Park – A beautiful place that is part of the Himalayan mountain range. The climate is cool and there is beautiful nature all around. A long walk can bring your soul peace here. We also got to see the twin pagodas set in the hills to commemorate the 50th birthdays of the king and queen. Each of the pagodas sits on a small peak amongst gardens – it really is very beautiful. From here we walked further down a nature trail and to a waterfall.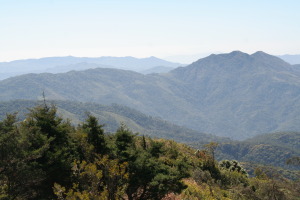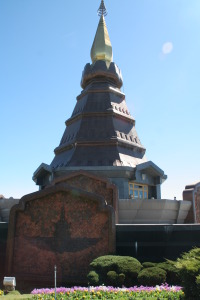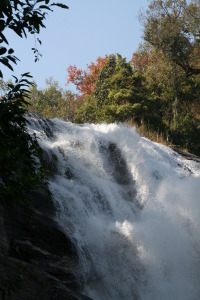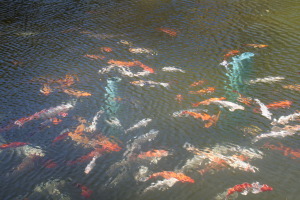 After this we went to see the Doi Inthanon Royal Project. Since the Hill Tribe peoples of the area were being left behind in modern times, and perishing in some cases, the royal project helps them create a sustainable environment with which to continue their traditional lifestyle. They are able to farm better, with weather-protection; they have transport to share and carry goods to market, and they have more reliable homes. You can see them in their huts or at the market where you have the opportunity to see their handcrafts and buy them. We met a 100 year old lady who was still fit and showed us that she ironed clothes by putting the material on a giant tree log, which she placed a board onto and stood on top of, so she could flatten it! Incredible… This may not be for everyone but certainly interesting!
2. Maesa Elephant Camp – This is a contentious topic and when we booked our trip we didn't realise all the choices out there and what was best. So I can only tell you that we had a great time and didn't see any mistreatment of animals. However, having looked into it more since our trip, I would be more likely to visit a sanctuary next time, such as the Elephant Nature Park or Patara. But we had a great time, with a little ride around the camp, then watching the elephants play football and paint (yes you read that correctly) really good pictures!
What to spend your time doing in Chiang Mai itself? The city is small but there are a number of night bazaars and markets. There are great massages to be had like our 2 hour couples massage at an amazing place on Tha Phae road near the gate. We enjoyed the city's great live music scene. Everyone was a cousin or friend of someone else we had met! Our favourite music bars were:
1. Boy Blues – great open air bar at the Kalare Centre near the Warorot night market. Boy plays amazing guitar, the staff are friendly and this was our favourite spot most nights!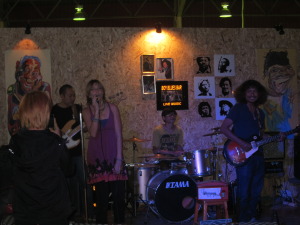 2. Brasserie – inside the city walls this cute little place has ambient lighting and great bands playing most nights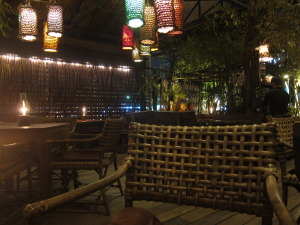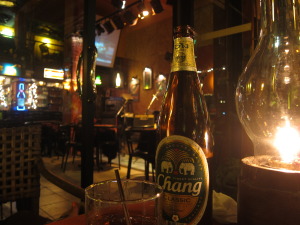 3. North Gate Jazz Club – you will make new friends here very quickly!
4. Loi Kroh Road has lots of bars and you will quickly get to know the life story of the locals and ex-pats (like the friendly American owner of the Chiang Mai Saloon)
And there was plenty of great food to enjoy too! Here are some of our favourites:
1. Riverside – try the cantonese noodles and enjoy the live music and geckos! Next door there is a more contemporary place that is similar, called the Good View you could also try.
2. Street Pizza – This wasn't street food, but was tucked away in a side street. The best pizza we have had in a long time… not just the best pizza in Thailand! yum yum.
3. The Whole Earth – We didn't get here in the end, but the food is meant to be lovely and you can sit outside in the gardens. It is a lovely oasis of calm.
4. Galare Food Centre – try this and lots of street food!
I think there was a lot still unexplored here and if I get the chance to go back I will definitely be doing as I had initially planned – to rent a bike and head up to the Four Seasons so I can see the rice paddies and then be rewarded with afternoon tea out on their lawn… bliss!
From Krabi airport (via BKK change) we took a transfer to our O-MAZING hotel the Phulay Bay Ritz Carlton Reserve. I can safely tell you that this hotel experience is one of the best I have EVER had. I have stayed at many wonderful hotels around the world, and nothing compares to this property, not only because of the immense beauty of the space but the impeccable service. If you know Ritz Carlton, you will know what I mean. (Gushing over for now…)
The hotel is where the wedding scene by the sea was filmed in the Hangover II – we didn't know this when we chose it, but when I walked by the spot (where they were setting up another wedding) I thought I recognised it and google tells me I am right! By the way the lobby scene is filmed in the nearby Sheraton.
Upon arrival, the hotel manager greeted us at the entrance – there is no reception. He was lovely and introduced us to our butler (!) Sabai who was going to take care of us for the next 6 nights. We were welcomed with flower leis and taken in our golf buggy to our villa. The Reserve Pavillion Villa is the most basic accommodation they offer on the estate.  Having done our homework (and after a tight squeeze between choosing this over the Rayavadee Railay Beach), we can tell you this is GREAT value for money. Huge and beautiful with indoor and outdoor baths,  a 12 foot bed, and shower room, this was perfect. We even had a bit of sea view – I wouldn't recommend paying more for a sea-view. A pool suite could be good but much more expensive.
This is a place for relaxation, for party places look elsewhere. From the pool, the gardens, the beach bar, spa, kayaking, restaurants and day trips to nature reserve Hong island, there is much to do. Even the breakfast with its multi-cuisine buffet and omelette bar was worth waking up to – we even got nutri-shots!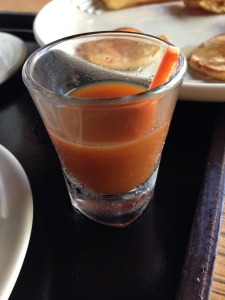 Hong Island was stunning – a tiny island inlet amongst limestone cliffs, you enter by longboat. With the Phulay Bay reserve, there is a free boat everyday to take you there and back. Once there, you can walk the nature trail and find some interesting things, like a HUGE monitor lizard (I had to wonder if it was a Kimodo Dragon!) or go snorkelling and see beautiful fish – listen carefully and you will hear them nibbling coral. As part of our honeymoon package we were given a picnic to enjoy here too.
During our stay we decided to do a couple of tours to break it up. The first – and truly amazing – was a trip to visit the natural jungle hot springs and emerald pool. About a 40 minute drive from the hotel, we pre-booked this with Trailfinders. Walking to the hot springs at 10am we were alone, which was fantastic. It was nature's own jacuzzi hot tub in the jungle! All the way down you can sit in different hot tubs and end with a swim in the river if you like!
After this unforgettable moment, we were taken into another jungle area where there is a lake that is crystal clear with white sand at the bottom where you can swim. It was busy but not too crowded – but be careful it is SO slippery all around the pool so getting in and out feels like threatening! We took a walk from here into the jungle further to check out the Blue Pool which you can't swim in but its beautiful (and full of quicksand at the bottom so be careful!) and if you clap the vibrations make the sand sink and bubbles appear – very cool!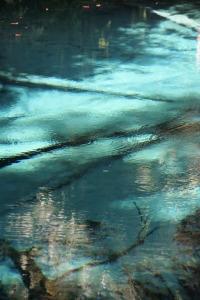 The next part of the trip after lunch would have been a visit to the Tiger Cave Temple with its 1237 steps to the summit… I was desperate to try it and see the monkeys but I was feeling really unwell so instead we went back to the hotel and I slept through a fever (nothing dangerous, just a virus I was probably avoiding with night nurse from London). I will take this moment to say that the healthcare in Thailand is great. Having not left enough time for all my vaccinations before going, I was a bit worried about it but when our butler Sabai sent me to her doctor in Ao Nang, I was well taken care of. He actually drew a flow chart of my symptoms to explain to me what was and was not, wrong. He then gave me a choice of antibiotic tablets or injection and gave me sweets for my patience! 🙂 So, nothing to worry about as long as you are near civilisation.
There are so many things you can do around this part of the Andaman islands – go visit James Bond Island, Koh Pi Pi from the movie The Beach and may other hot spots. But in the end we felt that the perfect ending to our holiday and honeymoon would be to relax, enjoy eachother's company and spend time on our reserve. It was a truly unforgettable experience, and I hope you will get to try it out yourself one day.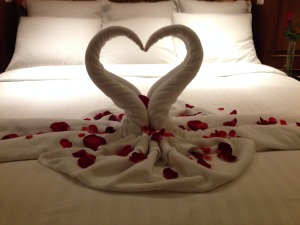 Thailand is a beautiful place with so much to explore. I am sure that everyone who goes feels that they have had a once only experience just for them. Dont get me wrong, there are some places and things that are touristy, but the people and experiences are great. You can book most things when you are there in the local town/ beaches. Hotels and tour operators at home will always charge you more than you will pay there. Happy Travels!