I was always determined that for me 'turning 30' wouldn't be this awful thing that everyone dreaded. And when I turned 30, I think I possibly celebrated more times than the queen! Starting with a night out in Amsterdam (Awards event at the Koepelkerk, Champagne at the Okura, Dancing like maniacs at Air), followed by a best friends wedding, a party at the secret garden in Notting Hill and an Oscar theme party at the Roof Gardens, after work drinks in canary wharf, dinner at Sketch, a BB King concert with Slash popping in, breakfast in bed… it was a month of outrageous indulgence. I crossed the 30 threshold in huge style.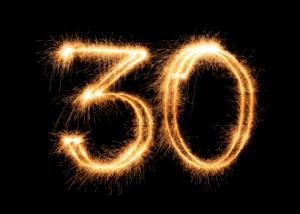 This time, it was a bit of  non event! Normally I get so excited about organising and inviting and dresses and whatever else, but this was the first time I was just like 'meh'. After hunting endlessly for the perfect venue (always a challenge as I wanted a summery outdoor venue with indoor space, on a Saturday, where I didnt have to pay extra to reserve etc, which is a fun place, where everyone can get to easily, which is affordable for everyone, where people can watch the England world cup game… the requirement list is HUGE), I realised that I just couldnt be bothered! And actually clearly from my list of requirements, the most important thing to me was the people, so who cared! I switched venues a few times (Radio, Zigfried, Boundary, STK, Hoxton Pony, Callooh Callay… the list goes on), ending up with the easiest option ever which was in the end, perfect.
I met my best friends, Molly, Jimbob and Henry and we went for a late lunch at Tom's Kitchen in Canary Wharf. I had been meaning to check the restaurant out since it opened but without much success, since its location is in that no man's land between the hustle and bustle of the central wharf and not quite on the waterside by the Four Seasons. It was 3pm so it wasnt so busy but still plenty of couples and young families around, while we ordered our wine and delicious food. Henry and Jim opted for the fishcakes: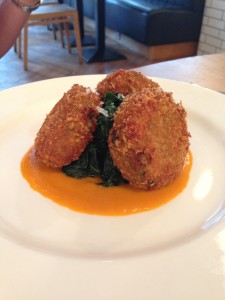 Molly for the very cheesy individual shepherds pie and I went for the controversial risotto with rabbit (i ate Thumper and he tasted good. I am sorry!)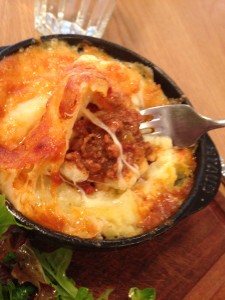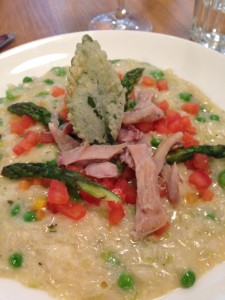 The service was a little different, as I think the waiter didnt understand everything that was going on but he got there in the end and it was all good. And when we didnt go for dessert they still brought out something to celebrate my birthday with – a very nice touch (and thanks girls!). Definitely a place to go for lunch/ brunch if you are in the area, it also has brunch specials like waffles and pancakes if you have the hankering, which I have been back for since. Jim also had the After Eight martini which was delicious!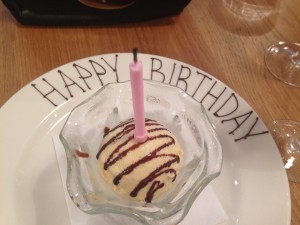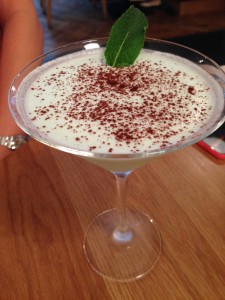 Post long girly lunch full of exciting gossip, we walked back and over to the Gun to meet the rest of the crowd. This is my 'local' and I could not ask for anything more perfect – thank you EMT group! It has character, class, a fun personality, good selection of food and drink and great staff. It sits on the bank of the Thames, overlooking the o2 and has cover for bad weather as well as a summer garden that this year is a great Gin Garden experience. We sat out in the garden, sipping on yummy Gin Mare cocktails (there was one that wasnt on the menu that was delicious – if you want to try it ask for Zsolt and I think he said it was a Mai Tai… my memory is a bit fuzzy by this point!)
The heaters kept us warm into the evening and eventually we joined the whole gang inside for a football game. At 1am we headed home (although there was a voice shouting 'pizza party at your place' I am sure) and went to bed like civilised adults. Unfortunately being civilised ends there… All the bubbly, wine, gin and vodka mixing caught up with me: Sunday was a hangover from hell and I couldnt move off the couch until 3pm or eat anything. There was my sobering reminder that I am indeed over 30 now and cannot drink and party like I could at 25 (those were the days…). Instead we had a conversation about how we could arrange activities to meet up with friends that did not involve eating and drinking: bowling anyone??
Thankfully, the birthday was accompanied by a number of 'birthday month' events like my hubby dinner date at Bilbao Berria, my family birthday in the countryside and a visit to HKK with another foodie.
Although this was a somewhat subdued birthday in comparison to others (5am ending, 50 people in the flat doing karaoke and being wasted whilst in 'porn-name hat' themes), it was still great to see everyone, get a little merry and hug! As time goes on and I know I will continue to feel the loss of youth, at least I know seeing friends will always make me feel good! The Queen song hits the nail on the head: "Those days are all gone now but one thing's still true, When I look and I find, I still love youuuu!"