Marcus Wareing's newest opening sits on St Martin's Lane in Covent Garden, on the former site of Japanese restaurant Kyashii, which most people don't seem to remember. It is opposite famous London landmarks like Dishoom and Stringfellows.
Tredwell's is cleverly named after a butler in Agatha Christie's novel The Seven Dials Mystery. I was really very excited to hear about this newcomer to the west end scene, and with such an influential seal of approval, my expectations were high. Arriving at Tredwell's, I had done no research… I hadn't looked up the menu, I hadn't looked at any reviews, but I was sure that this was a great spot for my reunion with ex-colleagues. As I came in, the staff were welcoming and friendly and the interior was cool. All dark wood and leather banquettes, it reminded me of a New York diner.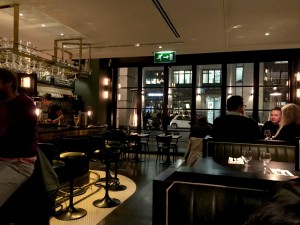 We started with cocktails – Down the Apples and Pears looked lovely, although slightly over-sweet. The Coco Cado Retox was delicious! Vodka, avocado, coconut water, cucumber and lime came together perfectly for a refreshing tipple.
The idea is to have sharing plates, the nice thing is you don't have to, you can do it however you like! We ordered a couple of 'snacks' to share between 3 of us as starters, which were a little hit and miss. The hit was most definitely the beetroot hummus, which had wonderful flavour and was a nice surprise.
The miss was with the sticky chilli chicken wings. I think most places you see chicken wings on the menu they are usually pretty decent, and here I was expecting something more without any effort. Unfortunately they were not really crispy/ a bit browned as you might expect but felt as though they had just had some sauce poured over them in the bowl (there was a lot of sauce leftover in the bowl at the end).
The snack menu also had something that sounded really odd to me: Courgette fritters with pine nut butter. If you have ever cooked courgettes, you will know that they can come over a bit greasy from their natural juices at times, so when making them into fritters, you know it will be a bit fatty. To pair this with a nut butter seems really strange, I expect it will be very rich. I didn't order them for this reason, and maybe I am wrong but I am just setting the tone of my experience really – a bit of a surprise in the wrong way perhaps.
We decided not to order starters as we were enjoying the cocktails and ourselves way too much! Our mains were pretty decent, although I think that my duck could have come with a little more veg on the plate. The wine we ordered was also pretty good.
Desserts looked great on the menu and I was stuck between the home-made ice cream or the warm chocolate, salted caramel and chocolate cornflakes, which sounded novel (and like a heart attack). The waiter told me the ice cream was the way forward and so I followed his advice. It was nice but super sweet… I don't think I managed to finish half, even with helping spoons from around the table.
The bill was very reasonable and we left feeling full and caught up, even though we were advised at one point in the evening that the table was re-booked and we may need to move  to the bar (in a very polite way which could not be faulted). However, I was not satisfied overall in my experience, as I think that whenever you go out to eat there is usually a hook that makes you go, 'I have to come back here!' and I didn't have that feeling this time.
The restaurant was nice, the staff were lovely and the food was ok for the location. But there was no wow factor and I am not convinced about the menu itself. I am sure if some of these dishes in their current state were presented to Marcus on Masterchef, the mild-mannered king of cuisine would not be overly pleased. Not sure what went wrong, but for me, for now, this is just another possible quick-fix for food before a show.