Last night, ze German and I went to check out Zaika of Kensington on the opening night of its soft-launch. Zaika (aptly meaning 'Taste'), originally opened in 1999 in a beautiful former bank building from the 1800s, that it still occupies. In 2012, the Tamarind group took over the venue. It has since been refurbished and now set to open officially, on November 27th – get that date in your diaries!
The restaurant is set on the end of High Street Kensington (one of my favourite 'nice' shopping streets with a local feel in London), and the corner of Hyde Park. It is a perfect place to have a nibble and cocktail at the bar after an afternoon of shopping, or for a special occasion and a cosy evening with good company and great food.
I had not been to the 'old' Zaika, so cannot compare it to what it may have been before, but I can certainly tell you that what we experienced last night was something that will definitely make us visit again (and again!). As we arrived at 7pm, we were greeted by friendly staff and there was already a nice buzz of patrons. The space was beautiful and not too big. It would be a great spot to host a private event.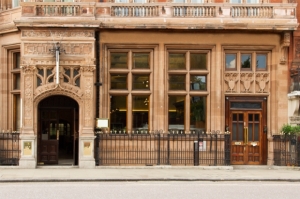 With sexy mood lighting and soft eclectic background music, the bar looked like a very appealing spot to perch and while away some time on a date night. As we sat at our table, we ordered some cocktails to start. I had the Shahi Raspberry, a lovely mix of vodka, raspberry and peach bitters. Ze German wanted to order a gin and tonic but a cocktail with Hendricks, tonic and peppercorns caught his eye so he went for that instead, and it didn't disappoint!
As we enjoyed the mini poppadoms (the green chutney was SO good!) and checked out the rest of the menu, we were given plenty of time to soak in the ambience and enjoy the architecture of the space. A really nice balance between the traditional, the indian, and the modern. The décor gives off an air of the Raj, but keeping things very modern and intimate, a nice mix. I even really liked the bathrooms! (Check out the photo on the staircase to the restrooms – its really captivating, looks like a block painting!)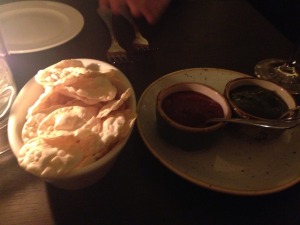 Difficult to decide, but we went for appetisers of Seared Scallops and Shammi Kebab. The scallops were pan fried and had a really lovely delicate flavour, complemented well by the powerful sauce. Perhaps they were slightly undercooked, but for a first night event, I think this is far better than over cooked! The kebabs were also really good, although I think ze German didn't know what he was quite expecting with kebabs containing lentils!
We were trying to decide on wines (some good options) but opted to be good and had a glass each. Ze German's Malbec was perfect for him, and I went for something different. It was my first Indian wine… I had a glass of Cabernet Shiraz. I am not normally a Shiraz kinda girl but this was a nice combination, with the slightly thicker, sweeter taste being a nice contrast to the spices.
For mains, we were overwhelmed with the choices and went for what we thought were some simple choices. I ordered the Methi Malai Murgh which is chicken in a fenugreek sauce. It is a signature dish – and I can see why! Perfectly balanced spices allow you to taste everything that fits so well together, without being left with a feeling like it wasn't hot enough.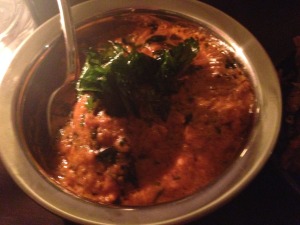 Ze German's Murgh Handi Lazeez (Chicken dish delicious) was equally more-ish. It was a chicken curry with a creamy sauce, but with an amazing clay-oven taste to it, so you could really taste the meat in the sauce. I couldn't tell you which was better!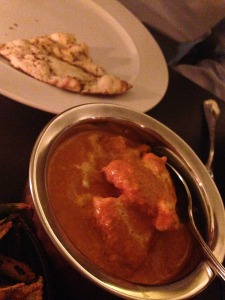 Alongside these mains we went for the bread basket with the truffle naan… heavenly! Thank you so much to the waiter who suggested that we REALLY needed to try these! The gram flour fried Okra that we were served as a side would also be a perfect nibble at the bar on any occasion – a new favourite, I might even try making them at home!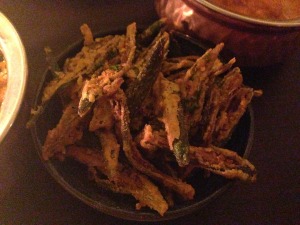 After all this yumminess, there was not a lot of room left! However, we (I) made the executive decision that we couldn't leave without trying something to test the last hurdle where most Indian restaurants fall… dessert. Looking at the menu, I was probably too full to know what I wanted, but I felt like the Nimbu (lime) tart with white chocolate ice cream would be a good bet. BUT when I asked the waiter (who now had some points for the truffle naan suggestion) what he would recommend, he blind-sided me with Red Velvet Sponge with Milk Fudge and Sour Cherry Sorbet.
So this is a testament to the power I vested in the staff last night… ze German had opted out of dessert, and would 'take a bite' of mine; and I strongly dislike cherry… especially sour. But I took the plunge, and oh my god I am so glad that I did. The red velvet cake was as you would expect. The cream filling inside was a lovely surprise! It had a cardamom flavour which gave it a nice twist. And the fudge was swirly beautiful (and tasty) décor on top! And the sorbet… I didn't love it, but I certainly ate most of it with the rest of the dessert. Wow.
We left Zaika feeling very full and satisfied, and having had a really nice evening. It wasn't the kind of full where you wonder why you just did that to yourself, instead feeling like you just ate some damn good food that deserves some place in your belly at a price that wouldn't break the bank.
So what is the verdict? If that was (practice) opening night, then I look forward to regularly seeing the well-oiled Zaika. You could sense that the staff were excited and eager to ensure that everything was right and everyone had a good time. The timing was a little off between drinks and food arriving but the ambience, excellent staff and delicious food more than made up for it. I have absolutely no doubt that this will be refined perfectly by the time the doors open to the public next week. Make your bookings now!